By Lucy Komisar
For over a quarter of a century, a trio of witty Brits has been amusing audiences with pointed political musical satire and a few jabs at social mores. The latest version, Fascinating A¯da – Absolutely Miraculous, in the Brits Off Broadway Festival includes some numbers that you won't find even from hot American satirists.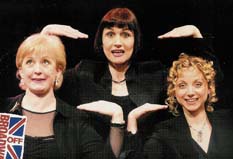 Early 80s trio members Dillie Keane and Ad¨le Anderson are joined by new trooper Liza Pullman in a collection of clever skits that sometimes recall the classical American satirist Tom Lehrer, occasionally reach heights Lehrer never dreamed off, and sometimes, alas, descend to a vulgarity that belongs in Broadway comedy clubs.
The writers are Keane, the pianist with a dry demeanor and perpetual scowl, a founder of the group, and Anderson, who came a year later. The director is Frank Thompson, who turns the theater production into fast paced cabaret.
At the best are satirical jabs at the financial crisis, The Markets, a sharp poke at celebrities called I Just Want to Be Famous, and a hysterically funny clever send-up of Marlene Dietrich, Lotte Lenya and German songstresses called Lieder. These are so good, that it's almost churlish to mention downsides.
The show starts with the delicious I Just Want to Be Famous, including I'm going out in a see-through dress and underwear by Prada; Got myself snapped at the latest club in a very provocative pose …And if I'm not in the papers tomorrow, next night I'll try harder, dancing on the bar with Mickey Rourke wearing even fewer clothes. Oh, it isn't too late, it isn't too late, it isn't too late to be famous.
Well, those are the slightly tacky wanna be's. But what about the left-liberal good guys? Listen to White's Blues. We vacation in Mauritius, yes, I know it's a very long flight; But we pay our carbon offsets, so that makes it all right; Ooh, I ain't got the blues, I've got those we're helping local economies by supporting eco-tourism; Well-meaning Times-reading whites.
And If they drill for oil in Alaska, it's an ecological bummer; but it would be so inconvenient if I couldn't drive my Hummer. Ooh, I ain't got the blues, I've got those actually, it balances out, 'cause the nanny's car is tiny, socially sensitive whites.
Lieder is a brilliant parody, but it's more than the words, it's the actions of the singers who are a hoot as they perch on chairs with their legs aloft akimbo. It doesn't matter if you sing out of tune, so long as you're German…. (off key) . …So if your voice sounds like it's coming through a strainer, sing it out of sync, like Marlene, and soon you'll be compared to Lotte Lenya… who was Austrian.
There's a series of Elizabethan airs that lampoon politicians and other worthy targets. Carla Bruni! Carla Bruni! She makes men feel swoony….nothing that she does could ever cause affront, even though she's married to that Gallic runt. And Tony Blair's got a vital job, oh…In which to make his mark; Bringing peace to Israel oy…Just like he did in Iraq. Ululate.
Liza Pulman has a very fine soprano, though my attention was distracted by the fact that both her costumes had necklines of the sort that threaten wardrobe malfunctions. Ad¨le and Dillie seemed content to direct attention to their voices and acting.
I didn't like crude sexual numbers such as Chastity (begins in public) and Dogging which belong in comedy clubs or frat houses. Such audiences never heard of Carla Bruni or Tony Blair. Fascinating A¯da sometimes seems confused about who her/their audience is.
Let me end with 'The Markets' because it is so right-on — I know because I'm writing about this now in my investigative journalist's life. To the tune of the Major General's Song from Gilbert and Sullivan's 1879 comic opera, The Pirates of Penzance:
Derivatives are monetary instrument, to put it very neatly:
But unlike stocks and shares the actual value comes from something else completely;
The value of derivatives derive, you see, from value underlying
And are often used to lessen risk for speculators selling and/or buying;
Now value can be notional or market and those values never meet
In addition, only market value gets recorded on the balance sheet;
Oh, and a sell is not a sell, it's called a put, just as a buy is called a call;
And thus anything you call, you'd better put before the prices start to fall.
And next there's short selling and hedge funds and more. To get it, you have to be au courant enough to know what they are talking about, which admittedly is not most of the audience. But take it from me, Fascinating A¯da understands (and skewers) the financial system as well as any financial analyst.
Fascinating A¯da – Absolutely Miraculous! Written by Dillie Keane & Ad¨le Anderson. Directed by Frank Thompson. 59E59, at 59 East 59th Street, New York City. 212-279-4200. Opened December 17, 2009; closes January 3, 2010.
2005 DIRECTORY OF THE LEADING HOTELS OF THE WORLD
Ad¨le