By Lucy Komisar
The conceit of this bizarre, quirky play could be dismissed as an absurd allegory except that it is based on true facts.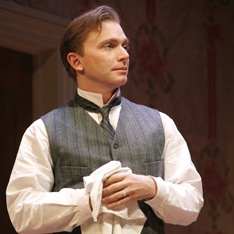 Start with men who don't have a clue about women's sexuality, add women who feel malaise, throw in a guy who's unhappy that the woman he cared for left him, and send them to a doctor with what today appears to be a very unusual prescription.
It's often comic, albeit, like the bad sex it skewers, it is curiously unsatisfying. It is a burlesque, where, under the direction of Les Waters, the characters are cartoons and orgasms are the punch lines of the play's one joke.
As the modern age arrived in the early 1880s with Thomas Edison's invention of a system for the generation and distribution of electricity, the refusal to acknowledge the nature of women's sexuality led apparently sympathetic physicians to solve their problem (generally called hysteria) by giving them orgasms with vibrators!
So everyone played the game that this was an advanced medical treatment, and the women – what did they think? Did they just lay back and enjoy it (without thinking of England) as the patient in Sarah Ruhl's play appears to do?
The set is a Victorian house in "a prosperous spa town outside of New York City, perhaps Saratoga Springs," at the dawn of the age of electricity and after the Civil War, circa the 1880s. Events take place in the parlor and the doctor's consulting room, which is filled with bound medical books. Dr. Givings (an appropriately impassive Michael Cerveris) is a specialist in women's disorders.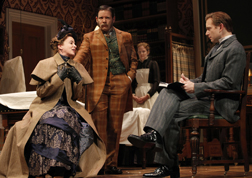 Sexual problems are described obliquely, and Ruhl's dialogue is clever. Mr. Daldry (well-played by Thomas Jay Ryan as a rather stiff fellow), complains that his wife (Maria Dizzia) is sensitive to light and cold: "Her fingers do not work in the living room or any other room." But Dr. Givings seems to know what's wrong. His diagnosis is hysteria, and he recommends therapeutic electrical massage.
A side joke is the extensive dress and petticoat paraphernalia (costumes by David Zinn) that must be removed for each visit.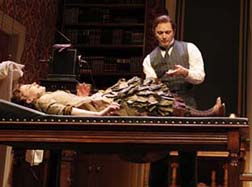 Mrs. Daldry lies on an examining bed, the doctor sticks a metal device under the sheet, and she has orgasmic convulsions"called "paroxysms." During a visit when the electricity blows, the doctor's assistant Annie (Wendy Rich Stetson) passively reaches under the sheet to try the "manual" method. The patient doesn't connect any of this to what happens in the dark with her husband, which she doesn't much like.
The doctor's wife, Mrs. Givings (Laura Benanti), is curious and, in a giggly intrigue of sisterhood with Dizzia, soon finds out what the treatment is all about. Dizzia and Benanti are delightful as the women, both utterly na¯ve, Dizzia fluttery and open to the experience and Benenti slightly ditzy. They both seem lonely. The back story of course is the failure of intimacy in marriage.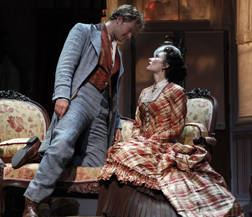 The doctor also sees men. Leo Irving (Chandler Williams) is a young artist who's been jilted and hasn't been able to paint for a year. His treatment is hard to believe. He also has a pronounced theatrical speech which maybe is how an artist is supposed to talk.
It's also hard to believe the premise of the play that the doctor, who presumably studied human biology and must understand how and why this treatment works, really didn't know what he was doing. Maybe male bonding made it impossible for him to point out that his patient's unhappiness stemmed from her husband's failure as a lover.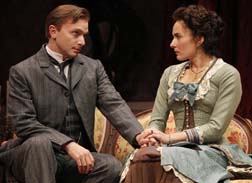 Then why is he is cold to his own wife? That seems connected to the fact that he doesn't pay attention to her in other ways, escaping to his club and leaving her lonely and alone whenever he fancies. He even asks her to hide when a patient arrives, and she squats behind the couch. We feel her humiliation.
To throw in more of the tenor of the times, there are multiple prejudices. Speaking about the wet nurse that his wife requires, the doctor says, "You'd rather have a Negro Protestant than an Irish Catholic, wouldn't you?"