By Lucy Komisar
December 14, 2009
The man who isn't there:   whatever happened to Paul Volcker?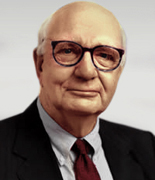 President Obama appointed him Chairman of the new Economic Recovery Advisory Board which is supposed to advise the president on jump-starting the economy and stabilizing financial markets. But the former Federal Reserve Chairman has been cut out of key discussions, including one taking place today with officials of a dozen big banks.
At this morning's Council on Foreign Relations breakfast to hear Barclays President Robert E. Diamond, Jr, one of my table-mates related what Volcker thinks about his exclusion. The ex-Morgan Stanley banker said Volcker is telling friends that President Obama appointed him just for window dressing.
Or else why isn't Volcker at the meeting Obama is holding today with members of the financial services industry to discuss economic recovery, the Administration's plans for financial reform and the banks' lending practices?
Maybe Obama doesn't want to hear the points Volcker might raise. Volcker told the House Financial Services Committee that he is for a stricter separation between banks that hold deposits and investment banks. And he says that by designating some companies as too big to fail, they get an implicit guarantee that they will be sheltered by access to a federal safety net.
According to the White House press release, staff people expected to attend are Chief of Staff Rahm Emmanuel, Senior Advisor and Assistant to the President for Intergovernmental Affairs and Public Engagement Valerie Jarrett, Chairman of the Council of Economic Advisers Dr. Christina Romer, Director of the National Economic Council Larry Summers and Treasury Secretary Timothy Geithner.
Where is Paul?