By Lucy Komisar
There's a genre of musicals that is supposed to be for kids, but is just as much for adults. I include The Lion King and Wicked and now Shrek the Musical. I loved them all. What they have in common is strong moral politics. The characters in the first play fight oppression, the second combat racism and Shrek does a bit of both. Like the others, it proves that shows about ideas are more interesting and fun than empty-headed fluff.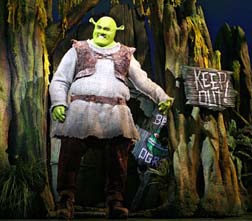 Shrek is a charmer. Book and lyrics are by David Lindsay-Abaire, who has a long track record of writing clever satires for adults. The poor guy Shrek (Brian D'Arcy James) has been put out by his parents because he is ugly and told to make his way in the world.
In his refuge he is approached by a gaggle of fairy tale characters who were all put out by the nasty Lord Farquaad (Christopher Sieber). Will Shrek show solidarity?
There are a lot of very adult lyrics to amuse the folks shepherding kids. (Many adults arrive on their own!)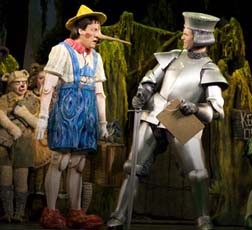 Snow White tells how she lives with seven men, but it's not easy. Pinocchio (John Tartaglia) declares, I'm wood, I'm good, get used to it. There's also a cross-dressing wolf. And a remark that, Somewhere, a village is missing its idiot.
Princess Fiona (Sutton Foster), who is locked away in a tower   la Rapunzel, dreams of a rescuing prince, but notes that a pre-nup will be binding. And, I know he'll appear, though I seem a bit bipolar. She punches the air.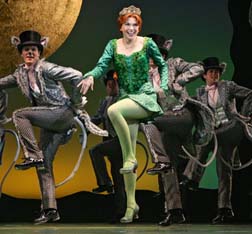 There's a spoof of kitchy good morning birds; Foster's high note destroys one.
At one point, puppets that bear a strong resemblance to those in The Lion King pass by to the sounds of an African song.
Do kids get this? For them, there is a lot of dialogue in the vernacular of how kids speak. And a bit of flatulence, which goes over big. They also get tin soldier armies with swords and a magic mirror. Director Jason Moore handles everything on a fine line between seriousness and the edge of camp.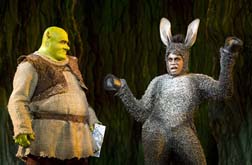 The dialogue is embedded in clever musical production numbers with choreography by Josh Prince and music by Jeanine Tesori in styles of R&B, blues, hip hop, gospel, R&R. The lush, imaginative sets are by Tim Hatley who also did the costumes and puppets.
I was particularly taken with the appealing comic donkey (Daniel Breaker). Breaker came to everyone's attention in Passing Strange and here shows he has a very wide-ranging acting ability.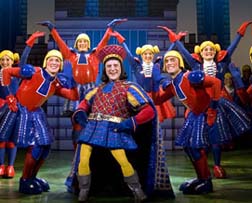 Foster is lively and fetching as the princess, and D'Arcy James is a good lumbering, slightly sad-sack weird guy.
Christopher Sieber is a hoot as the midget bad guy Lord Farquaad, with fake yellow-stockinged legs that flip out from his torso as he waddles around on hidden knees.
Did I mention that I went with another adult and we loved this show?
Shrek the Musical. Book & Lyrics by David Lindsay-Abaire. Music by Jeanine Tesori, Directed by Jason Moore. Choreographed by Josh Prince. Broadway Theatre, 1681 Broadway at 53rd Street, New York City. 212-239-6200. Opened December 14, 2008, Closes January 3, 2010.