By Lucy Komisar

When theater actress Lily Darnley (Kristen Johnston) kisses her image in the mirror, it might be taken as an exaggeration. It's not. It's the quintessential moment in this droll backstage comedy about self-absorbed celebrity divas who, alas, were just as much among us in the 1920s as today.
Maurine Dallas Watkins' 80-year-old play, directed with satirical smarts and verve by Jonathan Bank, was written with the eye of a journalist who was noted for her sardonic humor. Watkins had covered crime for the Chicago Tribune; she would go on to write film scripts in the 30s and 40s for directors such as John Ford.
We don't know much about her today, except for her 1927 play Chicago, the basis for the musical. So Help Me God! would have premiered in 1929, but then the stock market crashed. The Mint Theatre Company, which Bank heads, is noted for salvaging such gems of the past.
The scene of So Help Me God! is the rehearsal for a play called Empty Hands which has been penned by a stiff college professor (Ned Noyes).  Darnley – so self-absorbed that even in the acting world she is a caricature — is less taken with her role than with the clothes she may wear and the supporting actors she might seduce.
(Her lipstick gets increasingly smudged as the play goes on.) In fact, she insists on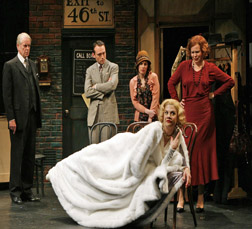 changing the script to allow her to improve the stage wardrobe: she will be a lady of the manor, of nobility, instead of a professor's wife.
And she acts that way, pushing the cast out into the rain so she can speak on the phone in privacy. She is manipulative, arrogant, cut-throat and outraged if anyone else gets noticed. She's also a bit of a lush. One wonders how she has succeeded on stage. But Johnston succeeds very well on the stage of the Lucille Lortel Theater as she/Darnley systematically destroys the interior play and, to the extent she can, the actors who threaten her.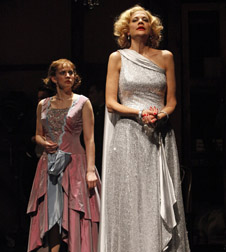 The challenge is taken up by Karren-Keppuch Lane (Anna Chlumsky), the neophyte ingénue from Cincinnati, who slips in through the stage door and manages to become Darnly's understudy. She is in Darnley's shadow, but it won't be for long. She transforms herself from a sweet young innocent to a driven wannabe star, which she will achieve by any means necessary.
Watkins also makes it clear that the other actors will suck up and to do anything to keep their parts, including betraying whoever they've said to love. Jules Meredith (Kevin O'Donnell) who Karren falls for, is ready in a moment to be a lap dog for Darnly, who had just fired him, then changed her mind.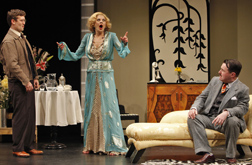 The Brit Desmond Armstrong (Matthew Waterson) is equally adept at sleeping with the star and getting his name in the promotional billing. Her writer, producer, and directors fall into place.
The cast, who Darnly tells her press agent should be identified just as supporting actors, delivers very well on that account. Catherine Curtin is a hoot as the in-your-face wise-cracking Brooklyn-accented company member, Belle, who reminds one of the ladies of Chicago. Kraig Swartz does a memorable campy Glenn, her second director.
The play may be old but it's up to the minute on the story.
So Help Me God! Written by Maurine Dallas Watkins; Directed by Jonathan Bank. Mint Theater Company at Lucille Lortel Theatre, 121 Christopher Street, New York City. Opened December 7, 2009; Closes December 20, 2009. 212-279-4200.