By Lucy Komisar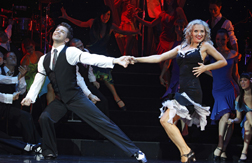 It starts with a light ball setting off two figures; she is in black underwear. Hot Latin drums keep a frenetic double time. Then for a change of pace comes a Lady in white silk and a man in a tux; they waltz and execute twirls through the air in a way you hadn't seen.
After that, 20s/30s jazz dancing; the guy wears a fedora and vest. A sailor and his partner jitterbug. A woman in pink is squired by a guy in a black leather jacket. (Costumes are by Janet Hine.)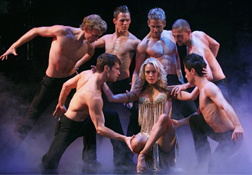 The choreography is sophisticated and sensual. Some of the sounds are swing, some are brassy. The production is gorgeous. In one subtle exciting number, the female dancer is blindfolded and she dances with six men, then walks away seductively. A tango is campy.
Burn the Floor is an exciting review of ballroom dancing through the decades, from Latin and Afro-Brazilian rhythms to modern jazzy idioms. Through you never saw any of this in a real ballroom. The numbers, the wild fast movements, come out of competitive dancing that these couples have done all over the world. Their origins span the globe from Australia to Russia and Latin America.
The group has been touring since 1999 to over 160 cities in 30 countries. Some met on the competition circuit. They are ballet trained and do ballroom with a contemporary edge. The duos change. Most of the dancers are 18 or 19 years old. It's a high energy craft. They insist it's not jazz dancing, though in some cases I'd beg to differ.
In any event, it's a thrilling genre, not to be missed for those who love the dance.
Burn the Floor. Created and directed by Jason Gilkison. Longacre Theatre, 220 West 48th Street, New York, NY. Opened August 2, 2009, closes January 10, 2010. 212-239-6200.