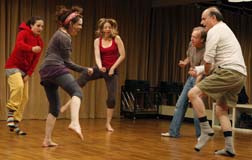 By Lucy Komisar
In Annie Baker's fascinating and inventive play, acting exercises morph into real life for an instructor and four people who sign up for a community theater workshop in Shirley, Vermont.
Not much seems to happen at first. They lie on the ground and count in a circle; they walk around and shake hands. In dialogue, each pretends to be one of the others. But as the talk and interactions evolve, they become personal dramas. And sometimes group therapy.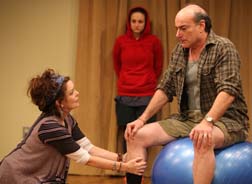 Marty (Deirdre O'Connell), 55, is co-executive director of the community center and teaches adult creative drama. She does much of the class sitting on a large blue yoga ball. James (Peter Friedman), we learn obliquely, is her husband. We suspect this when he delivers a dialogue in which he is Marty.
James went to law school, studied Marxist philosophy, and is afraid of being like his abusive father. Except, he doesn't express those thoughts; they are said by Theresa (Heidi Schreck), a seductive woman of 35 who wanted to be an actress in New York and now is studying for a certificate in acupressure.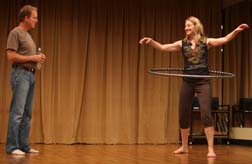 The characters are revealed not only by the dialogues of the others, but by their movements and body language. Theresa, for example, wears tops that bare her midriff and has a hula hoop that she uses to do sensual hip movements.
Shultz (Reed Birney) a divorced carpenter, 48, gets interested in Theresa, though he's still wearing his wedding ring. Lauren (Tracee Chimo) is a 16-year-old high school student who seems buried in a red hooded sweatshirt. (Sets and costumes are by David Zinn.)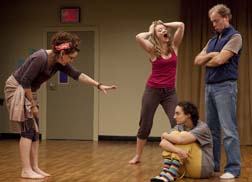 Slowly, the theatrical games turn into life games. Director Sam Gold moves seamlessly between acting exercises and real life drama so that the characters' stories, said by others, are expressed and acted out, as it were, by themselves.
As the pretenses get more detailed, the actors confuse their own feelings with the sentiments expressed by the characters they represent. The cast members are excellent in their portrayals. And suddenly a series of make-believe exercises are very real.
Circle Mirror Transformation. Written by Annie Baker; directed by Sam Gold. Playwrights Horizons, 416 West 42nd Street, New York City. 212-279-4200. Opened October 13, 2009; closes January 31, 2010.