By Lucy Komisar
This charmingly radical musical by Yip Harburg and Fred Saidy – given a smart, lively, delicious staging by Warren Carlyle — was a shot across the bow of conservative America when it opened on Broadway in 1947.
It showed black and white sharecroppers in solidarity against the tax foreclosure sale of a farm. It depicted the corruption and racism of a white politician who is buying up local real estate so he can block cheap public electric power. And it satirized capitalism by declaring that digging up some gold buried in the ground would remove an incentive and wreck free enterprise. Even the famous If this isn't love has the pointed line, If this isn't love, it's red propaganda!
Harburg of course was a socialist. So with his collaborator Saidy, he created a fantasy and love story to wrap around the political heart of the show. But strip away the fluff about a leprechaun's pot of gold and the romance between an Irishman's daughter and a young man of the farm community, and you have one of the most radical plays on Broadway in its time. For style and substance, it is a winner.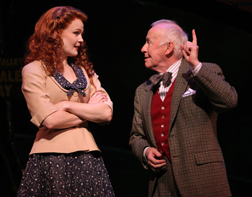 The story takes place in the 1940s in Rainbow Valley, Missitucky, somewhere around Tennessee and Kentucky. Finian McLonergan (a twinkling Jim Norton) has arrived from Ireland with his daughter Sharon (the charming Kate Baldwin) and a pot of gold he has stolen from the leprechaun Og (the very appealing Christopher Fitzgerald). He plans to bury it near Fort Knox so it can grow and assure his daughter's prosperity.
When the McLonergans arrive, they discover that Susan Mahoney (Leslie Donna Flesner in the production I saw), is about to lose her farm in a tax sale. Susan can't speak; she talks by toe dancing. and Flesner's movements are indeed eloquent. Her brother Woody (Cheyenne Jackson) arrives back from the merchant marine in the nick of time with cash to save the farm.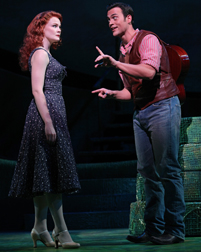 Then when Buzz Collins (William Youmans), the flunky of the racist blowhard bad-guy Senator, demands interest, Sharon, perched in a tree, drops the cash she's brought from Ireland.
The love interest allows for some memorable songs by Sharon and Woody, Old Devil Moon and If This isn't Love, among them. Kate Baldwin's bell clear soprano is the benefit you get when you cast real singers in Broadway musicals, not film stars. She shines in How are things in Glocca Morra? Cheyenne holds his own in the production numbers, though he is too laid back to have theatrical presence as an actor.
Fitzgerald's Something Sort of Grandish and When I'm Not Near The Girl I Love are magical enough for any leprechaun.
Terri White's Necessity brings down the house. And Carlyle's choreography is inspired, from down home country to Irish jigs.
But the engaging story is not the romance, it's the clever, witty political one that attacks racism and the privileges of the rich. Buzz instructs Howard (Tyrick Wiltez Jones), a young black college student who has been hired as the Senator's butler, about how to serve a julep. He inquires, You've seen 'Gone with the Wind,' haven't you? The message is to shuffle, because it makes for kindly feelings between master and servant.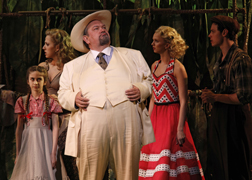 Congratulating himself on buying up the local land, the Senator Rawkins (a well-cast David Schramm), speechifies, Gentlemen, the festering tides of radicalism are upon us! And Forward to the sweet tranquility of the status quo. But then he discovers he hasn't gotten Susan's farm. The Senator suddenly needs a bromo seltzer, and as he pleads and groans, Howard does a riotously slow shuffle: I's a-comin' Masa….Jus' as fas' as I kin.
The deus ex machina is a magical pot of gold which Finian has buried. Seems it has the power to grant three wishes made by anyone standing over it. Rawkins is spouting off his usual racist blather, in this case about the law of the South forbiddin' certain kinds of people, namely them (he points to the blacks) from buildin' homes next to certain other kinds of people, namely us. Depreciates property values.
So he's going to take land from the blacks because they are the wrong color. At which point Sharon, disgusted, declares, It's the world that you and your kind have made that's wrong. Oh I wish you could know what their world is like. I wish you were black….
Since she happens to be standing over the buried gold, there is lighting, thunder, and the rotund pale-faced senator in a white vested suit becomes a portly black Senator. In the original staging, blackface was used on a single actor, but in this production, the black Senator is another actor, Chuck Cooper.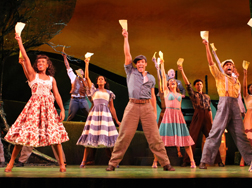 The politics of this play are so up to date, that Harburg and Saidy get in their licks on the matter of financial credit. It seems that with his gold, Finian is able to get unlimited credit from Shears and Robust, so the sharecroppers can buy tractors and bring in a tobacco crop. In a concession to modern sensibilities, when the farmers sing that tobacco is easy on the throat, they cough.
My favorite number is When The Idle Poor Become The Idle Rich, with lines like: When a rich man doesn't want to work, he's a bon vivant….But when a poor man doesn't want to work, he's a loafer, he's a lounger, he's a lazy good-for-nothing. The sharecroppers sashay around the stage in the exotic costumes they have ordered from Shears and Robust.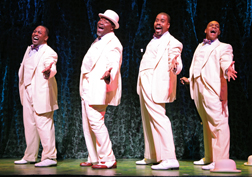 Another show stopper, the gospel singers whom the black Senator joins, do a jazzy Begat number about the peopling of the world since Adam and Eve, including the revelation that They begat the Daughters of the D.A.R., the Babbits of the bourgeoisie and the misbegotten G.O.P. Maybe the latter owes something to Arthur Perlman's contemporary adaptation!
Actually, it's pretty hard to pick a favorite when the show is so full memorable songs and clever satire. Finian's Rainbow, rich in ideas and memorable music and lyrics, counts among the best of American musicals.
Book by E.Y. Harburg and Fred Saidy; Adapted by Arthur Perlman. Lyrics by E.Y. Harburg; Music by Burton Lane. Directed and Choreographed by Warren Carlyle. St. James Theatre 246 West 44th Street, New York City. 212-239-6200. Opened October 29, 2009; closes January 17, 2010. http://www.finiansonbroadway.com/