By Lucy Komisar
I have to start out by saying that I despise everything about celebrity and the attendant fawning over people in the public eye, generally in movies or fashion, just because they are in the public eye. That doesn't include criticism of their art – of acting or design, for example – just the intense interest over every personal detail of their lives. Get a life! I want to scream. Your own!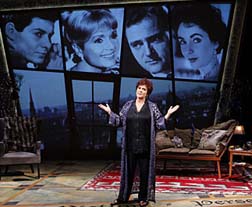 So, I was very likely to hate Carrie Fisher's self-referential one-woman staged pop autobiography that is based largely on the famous people she interacted with through her life, starting with her parents, Eddie Fisher and what's her name? Oh, Debbie Reynolds. It's been so long.
No surprise. I did hate it. It's rather like bad tell-all late night TV. Fisher is dressed in blue silk PJs, set off in the second act by a long robin's egg blue sweater, and is barefoot. I suppose the idea is to evoke intimacy. She starts out with the story of her parents' careers, which segues into her hostility to her parents. Self-centered celebrities are often bad parents. But they can yield jokes. She remarks about Fisher, My father has had so many facelifts that he looks Chinese himself. Or celebrity is obscurity biding its time, an aper§u that, when you think about it, means absolutely nothing.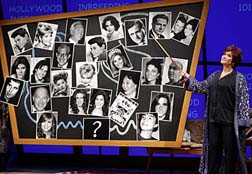 We will in time hear about her parents' divorce and remarriages and other related divorces and marriages, helped in the telling by a very large chart that reminds one of the diagrams that show the lineage of royal families.
In all fairness, she's as brutal to herself. She's an alcoholic. She is bipolar. She's been in a mental hospital. But none of this leads her to share self-awareness. Except that it must be bad to have famous parents and husbands.
She calls a male audience member onto the stage as a foil. Even when she jumps on the guy as he is stretched out on a chaise longue, he appears pleased at the humiliation – after all, it's making him, briefly, a celebrity. She takes questions from the audience about a friend who died in her bed.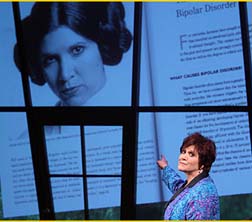 Her main beef is that George Lucas, the director of Star Wars, has merchandised her character, Princess Leia, as a Pez dispenser and other common artifacts. Lucas, who developed the film, gave up his director's fee in exchange for licensing rights, which earned him millions. Her character? The Pez Leia has a flat planed face that could be anyone. And Fisher would be nothing without Lucas. It's his character.
As a merchandiser impinging on other people's personal territory, Fisher can't be beat. She tells us about the failure of her 12-year relationship with singer Paul Simon, for whom she appears to retain some affection. He must have been a saint.
Fisher says in a promotion, Don't you hate it when celebrities, bla bla bla, just talk about themselves? When it's about their personal lives and not their art or creativity? Yes.
Wishful Drinking. Written & Performed by Carrie Fisher. Directed by Tony Taccone. Roundabout Theatre Company at Studio 54,   254 West 54th Street. 212-719-1300. Opened October 4, 2009, Closes January 17, 2010.