By Lucy Komisar
The title comes from Shakespeare's Twelfth Night:
What is love? / Tis not hereafter;
Present mirth hath present laughter;
What's to come is still unsure:/ In delay there lies no plenty;
Then come kiss me, sweet and twenty,/ Youth's a stuff will not endure.
Except that Garry Essendine (Victor Garber), who has the sense of a flighty youth, is a self-absorbed actor of 54. He is wont to shave a decade or so off his life, especially when he is playing up to pretty young women. Noel Coward's semi-autobiographical comedy is at times amusing – it is meant to be a send-up of the actor and his entourage — but it's nowhere near as clever as Coward can be. And the production by director Nicholas Martin lacks sparkle.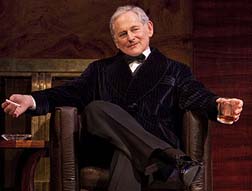 It's the late 1930s, and Essendine inhabits a stunning London Art Deco apartment, with leather chairs, a 3-tier icicle chandelier, and a winding staircase to second floor, smartly designed by Alexander Dodge. It is his stage set, and he gets the spotlight, which is how he wants it. The hammy Essendine, who pretends to eternal youth and pleasure, playacts his real life, wearing a wardrobe of dinner jackets as costumes and peppering his dialogue with speeches from plays or a Shelley poem. He admits, I'm always acting…watching myself go by….I belong to my public. Garber perfectly captures this man who is so full of himself that he is his own best audience.
He also declares, What would you all be without me? That raises some questions about those who hover around him. Where is their center; what's in it for them? They are just as much objects of Coward's satire, but it's hard to figure out where he stands. Is everyone meant to seem ridiculous?
Two people seem to really care about Essendine. Monica Reed (the sharp, smart Harriet Harris), his secretary of 17 years, of course is paid for her devotion. His estranged wife Liz (a very cool Lisa Banes) must have her own reasons for constantly hanging around, especially since she is the one who walked out.
But the others who flit around are in various ways ludicrous: Daphne Stillington (Holley Fain), 24, ends up spending the night because she wants to be a star. Joanna Lyppiatt (Pamela Jane Gray), the wife of his agent, appears to be making a game of infidelity. Roland Maule (Brooks Ashmanskas) the loony would-be playwright who occasionally flies through the air, wants Coward to read his script.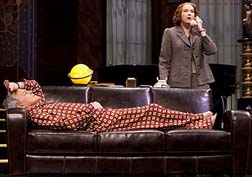 I connected best with the backstairs part of the bunch, Miss Erickson (Nancy E. Carroll), the Scandinavian maid. Eccentric in style, Carroll's cameo is a real character and makes you wonder who is really weird here. Well, Monica is not weird either, and good jobs were probably hard to get. But she's as much a nurse maid as a secretary to this immature star.
There is some typical Coward repartee such as Joanna – who is desirous of an affair with the actor — declaring, You are no more emotionally sincere than I am and he responding that women like Joanna undermine civilization.
But most of the action is not very credible, even if those things probably do happen and ostensibly happened to Coward. The play, written in 1939, shows its age with devices such as women claiming to forget their door keys. It is peopled with stock characters such as the ingénue who wants to sleep with the star. And the notion that Essendine is about to do an acting tour in Africa seems absurd. Africa? Where? The play picks up in the second act with farcical exits and entrances, people hiding in rooms, and the revelation of secret trysts and identities as all the strands in the stories get knotted together.
Still, I missed the familiar Coward wit.
Present Laughter. Roundabout Theatre Company, American Airlines Theater, 227 West 42nd Street, New York, NY. Written by Noel Coward; Directed by Nicholas Martin. Opened January 21, 2010; Closes March 21, 2010.