By Lucy Komisar
Creating a richness in their arrangement that adds to the beauty of each poem, director Peter Brook has ordered 31 Shakespearean sonnets, dramatically recited by Natasha Parry and Michael Pennington, to create a striking theater piece. It elegantly expresses love as it consumes men and women in the highs and lows of their relationships and into their later years. The poems are grouped to praise love that lasts through time and to plumb the pain of separation; the torments of jealousy, self-deception, and guilt; and the sorrows of older age. That doesn't quite make a play, but it sets new standards for poetry reading.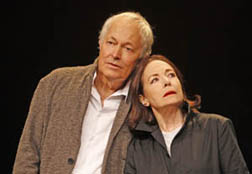 The set is simple, some wood tables, chairs and stools on a Persian rug. Parry, who is Brook's wife, wears black slacks and a long coat with swirls in the back. Pennington has a sweater over his black trousers. Franck Krawczyk sets off the poems with the 17th century music of Louis Couperin on accordion and keyboard.
Under Brook's sharp but subtle direction, in which the drama enhances but never effaces the lines, the actors play to each other and against each other. They move close; they drift or march apart. They are sensitive and they are furious. They are anxious. Sometimes they are forgiving. Pennington seems to suffer more. Parry gets angrier.
There's a sense of Shakespeare looking back. The first section, Devouring Time, reflects on the love and beauty that lasts even in the lover's thoughts, which makes losses disappear. It compares the speaker to Bare ruined choirs, where late the sweet birds sang. The lover knows that time will take his love away: This thou perceiv'st which makes thy love more strong/ to love that well which though must leave ere long.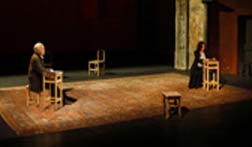 Separation brings conflicting emotions. There is pain felt by a lover who waits like a slave and a fool, regardless of what the beloved may be doing. Alternatively, there is joy at thinking of the loved one: For thy sweet love rememb'red such wealth brings/ that then I scorn to change my state with Kings. Or sorrow: …thou away, the very birds are mute. And on a journey, My grief lies onward and my joy behind. And ..my thoughts (from far where I abide) intend a zealous pilgrimage to thee. (Just compare that with Wish you were here!)
But then Jealousy arises, and with it protest, disillusion, self-deception. Parry disputes: Canst thou, O cruel, say I love thee not/ when I against myself with thee partake? Pennington is distraught.   But perhaps the object of love is unworthy: For I have sworn thee fair, and thought thee bright/who art as black as hell, as dark as night. And So shall I live, supposing thou art true,/like a deceived husband; so loves' face / may still seem love to me, though altered new. Thou mayst be false, and yet I know it not.
One might pretend: Therefore I lie with her, and she with me, / and in our faults by lies we flattered be. Or worry: 'For thee watch I, whilst thou dost wake elsewhere,/ from me far off, with others all too near.
Or ask forgiveness: Alas 'tis true, I have gone here and there, says Pennington on bended knee. It made him young, he admitted. Parry pushes him to the floor! But there is half regret: Enjoyed no sooner but despised straight. And besides, the other is just as guilty: ..those lips of thine, / that have profaned their scarlet ornaments,/ and sealed false bonds of love as oft as mine. Finally, he persuades her not to hate: 'I hate' From hate away she threw,/ and saved my life, saying 'not you'. Parry moves from the fury of the first I hate to the softness of the last forgiveness.
And lastly comes Time Defied, about death. Their faces are drawn and pensive. One asks a lover to forget If thinking on me then should make you woe. But in another verse, the man wonders why she pines within but is painting thy outwards wall so costly gay? In the end love is an ever-fixed mark/ that looks on tempests and is never shaken. And, Shakespeare finishes that sonnet with an undeniable avowal: If this be error and upon me proved,/ I never writ, nor no man ever loved.
Love is my sin. Written by William Shakespeare; adapted & directed by Peter Brook, Thé¢tre des Bouffes du Nord (Paris).   Theatre for a New Audience at the Duke on 42nd Street, 229 West 42nd Street, New York City. Opened April 1, 2010; closes April 17, 2010. 646-223-3010.