By Lucy Komisar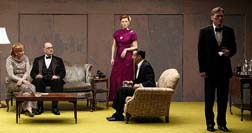 This is not the kind of black tie London cocktail party that Noel Coward was wont to attend. There may be champagne poured and secret infidelities going on, but the darkness that bubbles up out of those glasses reminds one of Albee or Pinter.
The Actors Company Theatre has mounted a striking production of T.S. Eliot's 1950 play that one won't soon forget. Cynthia Harris as Julia Shuttlethwaite is the kind of busy-body you'd like to lock up. Jack Koenig as the svelte barrister, Edward Chamberlayne, seems so (appropriately) empty that you feel there's no there there.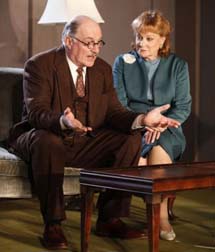 His wife Lavinia (Erika Rolfsrud) appears to have imbued enough bile to poison the lot of them. Scott Alan Evans skillfully directs this verse play, whose cadences you never notice.
On the surface this is about men and women and their loves and breakups. You expect some shuffling of the couples. But Eliot has thrown into the pot a stranger who was not invited by the host. It is revealed much later that he is Henry Harcourt Riley (Simon Jones), a psychiatrist — Sir Henry, though we don't know why, except that perhaps puts him above everyone else in station.
We learn a bit about the psychology of knowing people, that at every meeting we are meeting a stranger. Lavinia accuses Edward of having no sense of himself, of passivity. They start a blistering flight. She seems monstrous. Later he acknowledges that when he thought she'd left him, he felt he'd ceased to exist.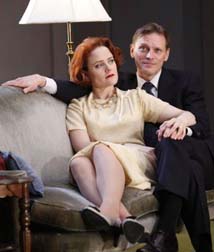 The problem we are told is that he can't love, and that she can't be loved. They seem like a matched pair.
Celia Coplestone (Lauren English) is the oddest character. In her mid-20s, (English shows her as cool, with some charm), when her affair with Edward ends, she feels she's always been alone, that everyone's alone. She suffers loss, disillusion. She wants to be cured of loving. The choice Sir Henry enables her to take is peculiar and difficult to believe of someone of her character and class. It ends rather gruesomely, in an event in Africa that is supposed to be religious – she becomes a martyred saint — but to me just seems weird. Penance for adultery? And what about the guy, who we later see being charming at another cocktail party. This is definitely a period piece.
Two of the men also leave for far off places. Alexander MacColgie Gibbs (these names must resonate with the British), played by Mark Alhadeff, goes off to Africa for a reason that is never explained. Peter Quilpe (Jeremy Beck), secretly in love with Celia, becomes a Hollywood screenwriter.
Love seems to be something to put aside so one can get on with life, however much afield that leads. Or to direct one's life so outside oneself that there is no longer romantic love that disillusions.
On the subject, many feel Eliot to have been monstrous in his own personal life. His first wife was a ballet dancer who has been described as temperamental, restless, prone to mood swings. With the doctors' verdict of hysteria, typically affixed to unhappy women, Eliot committed her to mental institutions from 1930 till she died 17 years later.
He married his secretary but didn't sleep with her, and some call him a closet gay. The secretary probably took orders better than the dancer. At any rate, having Eliot psychologically examine why some heterosexual relationships aren't working is bizarre, to say the least. His preaching on morality seems equally inappropriate.
The Cocktail Party. Written by T.S. Eliot; directed by Scott Alan Evans. The Actors Company Theatre at the Beckett Theatre, 410 West 42nd Street, NYC. Opened March 17, 2010; closes April 17, 2010.