By Lucy Komisar
April 19, 2010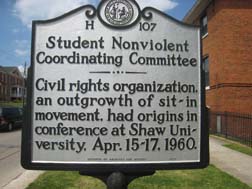 Last week, I was at Shaw University in Raleigh, NC, for the 50th anniversary conference of SNCC, the Student Nonviolent Coordinating Committee, which led the sit-in movement of the 1960s. I attended SNCC's founding conference at Shaw in April 1960.
That meeting had been called in response to the February 1, 1960 protest in Greensboro, NC, when four black students sat at a Woolworth's lunch counter that reserved stools for whites,, demanded to be served and were refused.
Attorney General Eric Holder Jr. addressed the nearly one thousand conference participants Saturday and told them, There is a direct line from that lunch counter to the Oval Office. I wondered if President Obama agreed.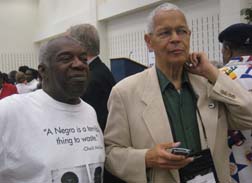 The sit-in movement of the early 60s had spread throughout the South. SNCC turned a protest against Jim Crow public accommodations into a political challenge. Its dozens of organizers and hundreds of volunteers registered many thousands of voters in deep-South redoubts such as Mississippi, Alabama and Georgia. Activists were routinely jailed and beaten; some were murdered.
They changed the South and American politics. Through the Mississippi Freedom Democratic Party challenge to the all-white Mississippi delegation at the 1964 Democratic Convention in Atlantic City, SNCC began a campaign that ultimately ended Dixiecrat control of the national Democratic Party. New party rules banned convention delegations that excluded blacks.
SNCC also involved Northern activists and support groups in the movement. I was arrested in Elkton, Md, on a 1961 Route 40 Freedom Ride which attempted to desegregate restaurants along the main highway between New York and Washington. I went on to be editor of the pro-civil rights weekly Mississippi Free Press in Jackson, 1962-63.
But Holder, recognizing the sacrifices of SNCC that he said made it possible for him and President Obama to be where they are today, brought no message from the President. A member of the conference planning committee told me Obama had been invited. So he knew about it. She was perplexed at the lack of any White House communication. The President, who routinely sends greetings to citizens and business groups of all sorts, apparently didn't find it important to salute the people who laid the groundwork for his election.