By Lucy Komisar
What happens when the victim becomes the victimizer? When a man's spirit is so thwarted that he turns hard in his soul and becomes so self-centered that he can't love or care for anyone else? It's the message of August Wilson's tough 1983 play set in the late fifties that attempts to explain the dysfunctional working class black men who were being studied to death.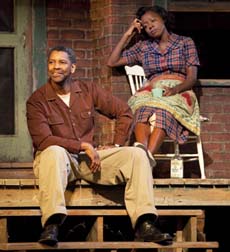 Denzel Washington as Tony Maxson and Viola Davis as his wife Rose are tragic figures who encompass desperate desires to get ahead and heartbreaking experiences of failure. They shine in director Kenny Leon's production that at once tugs at your heart and makes you furious. Leon directed Wilson's Gem of the Ocean and Radio Golf on Broadway and knows very well how to mine circumstances in the playwright's work that bring forth both sympathy and dismay.
The setting is Wilson's Pittsburgh, this time 1957, at a shabby brick house with a back porch and paved over yard, a tall maple planted in the hard dirt and concrete as if to emphasize that this space that ought to be for grass and shrubs is sterile. Close next door is a similar red brick two-story home. The set is by Santo Loquasto.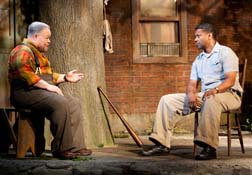 Troy, who is 53 and working on a garbage truck, vents his anger at racism to his co-worker and friend, Jim Bono (Stephen McKinley Henderson, who has become a necessary featured actor in Wilson's works). Troy complains that the whites get to drive the trucks while blacks haul the garbage cans. He refers in a dreamy way to the time when he played minor league baseball. Even that didn't work out. He grumbles that white men won't let him get anywhere. Washington gives a brilliant performance as a man eaten away by anger and resentment.
His isn't the only family tragedy. Gabriel (Mykelti Williamson), his brother, has a plate in his head from a war wound and now hallucinates. He gets some welfare, but not the care he deserves. (Of course, the Veterans Administration is famous for the bad treatment given veterans of all races.) Gabe says he's gone to heaven and seen St. Peter. He imagines he chases Hell hounds, and he carries a trumpet for Judgment Day. Is that an ironic reference to the Biblical Gabriel and his horn? (The real, fine trumpet music is composed by jazz musician Branford Marsalis.)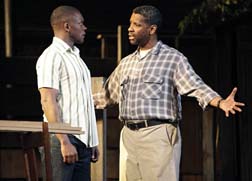 But Wilson is not writing agitprop. This story is complex, and there's blame to go around. On the down side, Troy's past includes some dicey events in the years before he played baseball. And his stony emotional failure repeats the lack of love his felt from his father. In a grabbing moment, he repeats that failure with his own son, Cory (played with subtly controlled emotion by Chris Chalk), who has dreams of accepting a football scholarship that will get him to college. How come you never liked me? Cory asks.
Troy's inability to understand the meaning of love leads to the betrayal of his wife Rose, played with tenderness and strength by Viola Davis. Yet, Wilson knows how to pull survival out of the family tragedies, overcoming the dysfunctions that sociologists are still studying. That may account for the enthusiasm of black audiences who see heroism through the pain.
Fences. Written by August Wilson; directed by Kenny Leon. Cort Theatre 138 West 48th Street, New York City. 212-239-6200. Opened April 26, 2010; closes July 11, 2010.