By Lucy Komisar
A stage musical/documentary may be a new genre, and this one, created and directed by Stephen Sondheim's longtime collaborator James Lapine, works smartly and engagingly to provide a tour through the life and works of the master songwriter. The man who is known for sustained peaks of imagination comes to life through a very inventive combination of video and musical numbers, with an appealing cast led by Vanessa Williams and Tom Wopat.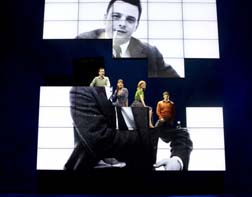 Sometimes he seems to be in a city study, other times in a house with a view of a large snowy back yard. A backdrop of shifting rectangles in different colors becomes the many-sided screen that displays photos and film clips of the past and commentary in the present. (Set is by Beowulf Boritt and video by Peter Flaherty.) The orchestra is behind a scrim.
Sondheim's story starts with a childhood dominated by a mother who appears to blame him for her husband running off. Fortunately for the boy (and us), she moved to a farm in Doylestown (Bucks County), Pennsylvania, and managed to get invited to the home of Oscar Hammerstein, who had a son Stephen's age. The great songwriter Hammerstein became his surrogate father.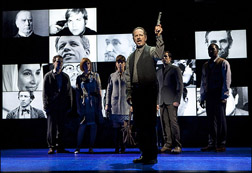 The play shows the richness of Sondheim's work, but it's not just a pastiche of songs; it's a creative production itself. A number about Assassins flashes white-on-black headlines, then like bursts of fire throws up photos of victims: Martin Luther King Jr., Gandhi, JFK, Lincoln.
Sondheim tells how some numbers became outtakes and others were urgent replacements, such Comedy Tonight, written for A Funny Thing Happened on the Way to the Forum. We learn how his sound was distinctive from the beginning. The joke is, You think the tune is going up; it's going down.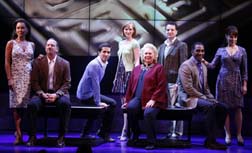 His lyrics are also distinctive: satiric, ironic, sophisticated and never trite. There are ruminations such as Life is crummy. Now you know. People tell you lies, thieves get rich, good guys get shot. He did the lyrics for West Side Story, though at first he wasn't sure he wanted the job since the music wasn't his but Bernstein's.
We see how musical numbers are little plays themselves, as in Company, with couples coming together and breaking up. He explains how, since he wasn't married, he took notes from Mary Rodgers about what marriage is like. Norm Lewis is excellent in his rendition of that show's Being Alive.
There's a comic You Tube series of clips of Send in the Clowns from A Little Night Music, appropriately revived now on Broadway. Barbara Cook takes over the song, but she is miscast in this production: her voice is too small for the big stage.
It's fun to see Williams do an outtake from Gypsy, and Wopat take us nicely through Finishing the Hat from Sunday in the Park with George. Pieces of the painting La Grand Jatte appear on the multiple screens.
Sondheim is 80 this year. It's a pleasure to see him narrate the artistic trajectory of his life and work with the same panache that animates his memorable shows.
Sondheim on Sondheim. Created & directed by James Lapine; music & lyrics by Stephen Sondheim. Roundabout Theatre Company, Studio 54, 254 West 54th Street, New York City. http://www.roundabouttheatre.org/54/index2.htm. Opened April 22, 2010; closes June 27, 2010.