By Lucy Komisar
I'm usually suspicious about people who do plays about themselves. But this autobiographical cabaret was a lot better than I expected. Sherie Rene Scott is certainly very self-involved, perhaps par for the course among performers, but she's also got something interesting to say and, directed by Michael Mayer, an appealing way of saying it. Everyday Rapture is what happens when godliness turns into show biz.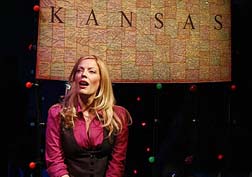 Dressed in a pink blouse and tight pants, with long blond hair – this is already a stereotype of the kind of sex-selling performer who turns me off – she admits to everything I might accuse her of.   From a family of Kansas Mennonites, she insisted that rather than a speck of dust waiting for the rapture – Is that the second coming or being one with God? Not clear " she decides that the world was created for me. Playing with her blond hair in a way that says look at me, she declares that she was searching for a way to be one with God while a lot of other people clapped. Well maybe her admission in the clapping part is what a lot of people, including writers, also want.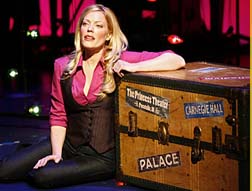 Sherie did her searching during Rumspring, the year off that young Mennonites get to give them a taste of the outside world. She found a Jewish guru who told her she didn't have to choose. She could be a Broadway star and still hang onto the rapture.
After I accepted that Sherie is full of herself, admittedly in a way that grows on you, I could sit back and enjoy the show. The funniest part of the evening is when a hokey photo of Jesus sacrilegiously morphs into an actor blowing smoke rings and winking. Is that Judy Garland's voice singing, You made me love you? The clever projections are by Darrel Maloney.
There's a strong political segment about a homophobic minister from her town who pickets gays' funerals. Some other parts are silly, especially one about a kid who steps out of a YouTube video. And a story about a cat swallowing a 4-leaf clover.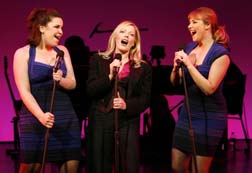 But Sherie, helped by a three-woman back-up group (Eamon Foley, Lindsay Mendez, and Natalie Weiss substituting for Betsy Wolfe the night I attended), can certainly belt out a song. Her Rumspring year morphed into a couple of Rumspring decades. The better for her, and for us.
Everyday Rapture. Written by Dick Scanlan & Sherie Rene Scott; Directed by Michael Mayer. Roundabout Theatre Company at American Airlines Theatre, 227 West 42nd Street, New York City. 212-719-1300. Opened April 29, 2010; closes July 11, 2010.