By Lucy Komisar
Lillian's Hellman's account of the greed that tears apart a family is as powerful and compelling today as in 1939 when it opened on Broadway. It takes place at the turn of the last century, but was written at the end of the Depression. It's about the advance and avarice of predatory capitalism. The little foxes, yapping and biting at each other's heels, can be found on Wall Street and in corporate America.
Dutch director Ivo van Hove's gripping production, dressed elegantly modern and in a nearly empty purple-velvet-covered black box, makes one think they are entombed there, condemned in a variant of Sartre's No Exit to hit out at each other forever.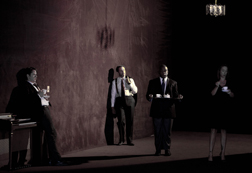 The two brothers and sister of the Hubbard family – Oscar (Thomas Jay Ryan), Ben (Marton Csokas) and Regina (Elizabeth Marvel) – own a store in a small Texas town. They've made their money by cheating blacks. The local cotton gets sent elsewhere for milling, and they want to build a mill in town so they can become very rich. A businessman from Chicago (Sanjit De Silva) is interested in a deal and arrives to discuss the proposition. But they need to raise their share of the investment, and they don't have it.
Regina's husband Horace (Christopher Evan Welch) has it. He's been in a hospital in Baltimore for care of a heart condition. He also was happy to be away from Regina, who hasn't slept with him for ten years. Regina plots to use their daughter Alexandra (Cristin Milioti) to lure him back and put her hands on his $88,000 in bonds.
The conflict between the siblings and spouses turns nasty. The tension gets thicker as the money stakes escalate. So does the violence. Oscar's wife Birdie (Tina Benko) was his first prize, the daughter of local aristocrats. Now, he beats her, and she drinks. The brutal scenes between them are done in stylized fashion, almost as dance. Their son Leo beats the horses.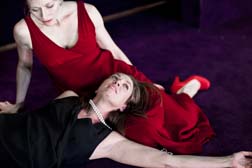 The central character is Regina, played by Marvel with a cool fury and a sense of queenly entitlement appropriate to her name. Tina Benko is excellent as Birdie, embodying a sense of both physical and emotional frailness. Thomas Jay Ryan's Oscar conjures up every wife abuser, whose internal brutality spills out on the one who's closest.
This is indeed a feminist play, with Regina and Birdie opposite sides of a coin called no opportunity, no choices, no way out. Regina dreams of leaving the small town for Chicago and a life of excitement. Birdie, brought up as a sheltered young woman whose future was only in marriage, was na¯ve to the intent behind Oscar's wooing. Cristin Milioti does a fine job as Alexandra, the only family member who shows real affection, as she frets over the health of her father.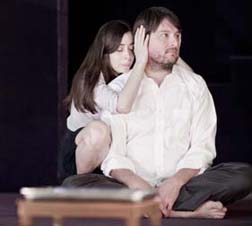 The characters sit and lie on the luxurious purple velvet floor or grab and claw the plush walls. There are in a lavish prison.
A video screen shows people and places offstage: Horace lying in his hospital bed, the kitchen table with a coffee maker, Alexandra making her escape in an airport. Hellman was from New Orleans. Perhaps Alexandra represented her own getaway. But I found the videos disconcerting; they didn't add anything except a sense of gimmickry.
The portentous music rises to underscore the multi-layered revenge that plays out in Hellman's juicy Southern Gothic tale. If you've never seen this Hellman play – or even if you have — this is a production you won't want to miss.
The Little Foxes. Written by Lillian Hellman. Directed by Ivo van Hove. New York Theatre Workshop, 79 East 4th St. (bet 2nd & 3rd Aves), New York City. 212-279-4200. Opened   September 21, 2010; closes   October 31, 2010. http://www.nytw.org/.