By Lucy Komisar
Sarah Ruhl's inspired adaptation of Virginia Woolf's novel Orlando is a poetic and vivid paeon to the art and importance of discovering oneself. It is also wildly clever and funny. Directed by Rebecca Taichman, it is yet another reason why the Classic Stage Company is so invaluable to New York theater. And why Ruhl is a playwright on the not-to-be-missed list.
Woolf wrote Orlando in 1928, as an homage to her friend, the writer Vita Sackville-West. In it, Orlando, a young man in Elizabethan England, starts his amorous career as a lover to the Queen, then moves to an affair with the Russian princess Sasha. But (as in Sackville-West's own life), gender preferences shift, in this case, albeit implausibly, along with genders, all accompanied by subtle and satiric commentary on the status of men and women. It is indeed a feminist play.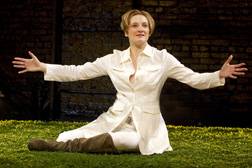 Francesca Faridany, in short full hair, white pants and tunic, and brown boots, has a wonderful innocent and androgynous demeanor as Orlando. She is perfect in the role. David Greenspan plays Elizabeth with great humor and panache, with a flat Potemkin Village-style life-size skirt and gold bodice of the sort people pose behind in amusement parks.
The best way to present the cleverness of Ruhl's adaptation is through the actual script.
The Queen extends her hand.
Orlando kneels before her.
ORLANDO: Such was Orlando's shyness that he saw no more of her than her ringed hand in water, but it was enough.
CHORUS AND ORLANDO: It was a memorable hand. …..a commanding hand, a hand that had only to raise itself for a head to fall; yes, the Queen had a hand–
and much later
THE QUEEN: Perhaps you are bored. Perhaps you do not play with boys your own age quite enough.
ORLANDO: How could boys my own age compare with a Queen, Mum?
THE QUEEN: That's the spirit, Orlando.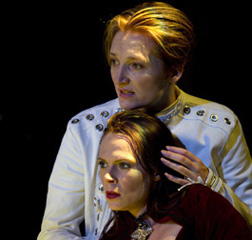 The scenes with Sasha, the flamboyant Annika Boras are wildly exuberant, and then quite prosaic, as befits a young love. Symbolically as well as actually, they don't speak each other's language.
SASHA: (to the audience) A translation. Hello. I am the Princess Marousha Stanilovska Dagmar Natasha Iliana Romanovitch.
ORLANDO: Orlando trembled, turned hot, turned cold, longed to crush acorns beneath his feet.
(to Sasha) Will you come to dinner?
SASHA: Parlez-vous francais?
AT DINNER He passes her the salt. Sasha speaks to Orlando in gibberish French, putting her hand on his knee. Orlando looks at her, bewitched.
CHORUS: A translation.  Who are these bumpkins?  Does the Duke always slobber like that?  Is the figure with her hair like a Maypole really the Queen?
SASHA: Take me away. I detest your English court. It is full of prying old women. They smell bad. It is like being in cage. In Russia we have rivers ten miles broad on which one can gallop all day without meeting a soul. I want to leave the Court!
ORLANDO: Do you fancy seeing London?
SASHA: I don't know–what is in this London?
ORLANDO: The Tower, the Beefeaters, the jeweler's shops, the theaters….
But Sasha promises him, One day we will live in Russia together, where there are frozen rivers and wild horses and men who gash each other's throats open.
The production shifts from dialogue to narrative (He said, she said), with absurd turns of events racing to the fluid and comedic choreography of Annie-B Parson.
After Sasha goes back to Russia, Orlando is hit on by the Archduchess (the versatile Greenspan with a hokey Spanish accent). To escape, he has the king send him to Constantinople. There he continues his love life till one day, at 30, he falls asleep and, after a week, awakes as a woman! To allay any doubts, Orlando arises covered by a sheet which then drops to make it evident to everyone that she is a woman.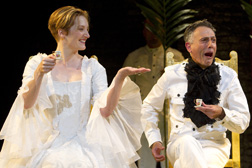 She returns to England in the 18th century. And the Archduchess returns as an Archduke (the excellent Greenspan again)!
Orlando is prepared to make the best of it, while musing about what she's lost.
ORLANDO: (to the audience) How odd! When I was a young man, I insisted that women be obedient, chaste and scented. Now I shall have to pay in my own person for those desires. For women are not obedient, chaste and scented by nature. They can only attain these graces by tedious discipline. …When I set foot on English soil, I shall never be able to crack a man over the head, or draw my sword and run him through the body, or lead an army…All I can do is to pour out tea and ask my lords how they like it.
Back home on her estate, no sooner had Orlando opened her mail than she discovered that she was now victim of two major law suits:
CHORUS: (as barristers) 1) That you are dead, and therefore cannot hold any property whatsoever. 2) That you are a woman, which amounts to much the same thing.
You get the idea! The rest of the play is of a piece.
Working with a superb script and outstanding cast, director Rebecca Taichman knows how to take a bizarre premise and make it all seem quite reasonable, thought-provoking and eminently entertaining.
Orlando. Adapted by Sarah Ruhl from the novel by Virginia Wolf. Directed by Rebecca Taichman. Classic Stage Company , 136 East 13th Street, New York City. 866-811-4111 or 212-352-3101. Opened Sept 23, 2010; closes Oct 17, 2010. http://www.classicstage.org.