By Lucy Komisar
Maybe it's because hypocrisy never goes out of style that George Bernard Shaw's 1893 play, Mrs. Warren's Profession, seems so up-to-the-moment and not in the least dated. This delightful production by Doug Hughes, with the inimitable Cherry Jones as the madam/mother and a stand-out Sally Hawkins as her daughter, Vivie, charms, amuses and instructs. It is a very feminist play.
What could a British woman do in the late 1800s, when their choices were quite limited? As Mrs. Warren asserts, one could be like her half sister, lead-poisoned in a factory, or be a shop girl or bar maid for starvation wages. She, a lady of good sense, went into partnership with Sir George Crofts (Mark Harelik) — note the aristocratic prefix — in the bordello business in Brussels and Vienna. Jones plays Mrs. Warren like a typecast Wild West saloon keeper, speaking out of the side of her mouth as if she had a cigarette stuck in the other corner.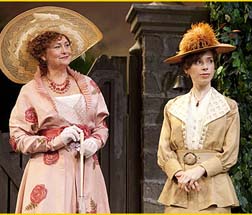 A lady of ill repute, working with an aristocrat to get cash, could afford to give her daughter all the advantages. That meant that Vivie, whose father's identity is not clear, was sent off to boarding school and to university. There, she focused on mathematics and tennis, which instilled in her an interest in law and the stock exchange. She is an intellectual and likes working. She wants to be an actuary! She dislikes the feminine diversions of art and opera. She even smokes a cigar.
There's the irony: the outcasts of a society that marginalized women become part of the system by taking on male roles: the entrepreneur and the professional.
On the other hand, Frank Gardiner (Adam Driver), the son of the local social-climbing minister, is just the sort of frivolous wastrel that women of that class were supposed to be. He is courting Vivie, but he doesn't want to work, which hardly endears him to her. Rev. Samuel Gardner (Michael Sieberry) wants him to marry someone with social position — just like women were supposed to do.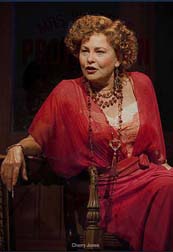 Jones as Mrs. Warren is the mouthpiece for Shaw's views about marriage.   She can be a seductive floozie in red chiffon gown and curly red hair. She asks, What's respectable? As if a marriage could make any difference. The hypocrisy makes me sick. She compares the bordello to marriage: It's not work anyone would do for pleasure.
But, The only way for a woman to provide for herself decently is marriage or the whorehouse. It can't be right that there shouldn't be better opportunities for women.
Compare that to the morality of the people at the top. Crofts point out to Vivie: Do you remember your Crofts scholarship at Newnham? Well, that was founded by my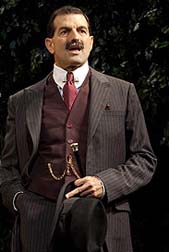 brother the M.P. He gets his 22 per cent out of a factory with 600 girls in it, and not one of them getting wages enough to live on. How d'ye suppose they manage when they have no family to fall back on? Ask your mother. And do you expect me to turn my back on 35 per cent when all the rest are pocketing what they can, like sensible men? No such fool! If you're going to pick and choose your acquaintances on moral principles, youd better clear out of this country, unless you want to cut yourself out of all decent society.
Vivie [conscience stricken] You might go on to point out that I myself never asked where the money I spent came from. I believe I am just as bad as you.
He points out, As long as you don't fly openly in the face of society, society doesn't ask any inconvenient questions; and it makes precious short work of the cads who do.
The play, which was banned in New York for its immorality, is of course a morality play through and through. Except it's not the morality of the people who ran the system then, or now.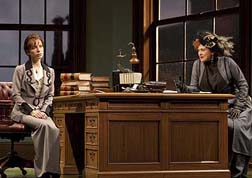 Director Doug Hughes has mounted a terrific production, with two unforgettable women who are nevertheless completely different – the biting, sparks-flying Jones as Mrs. Warren and a cool, reserved Hawkins as her daughter. Compared to them, the men hardly register. They are played appropriately by Driver (Frank), Harelik (Crofts), Siberry (the Reverand) and Edward Hibbert as a visiting friend Mr. Praed so that they are almost nonentities compared to the two strong women.
Scott Pask has created a fabulous set, with the outside of the Warrens' bourgeois red brick house and a proper high hedge, a pine paneled drawing room, the Reverend's house and garden, and Evie's power office.
It's a classic which you shouldn't miss.
Mrs. Warren's Profession. Written by George Bernard Shaw; directed by Doug Hughes. Roundabout Theatre Company, American Airlines Theatre, 227 West 42nd Street, New York City. 212-719-1300. Opened Oct 3, 2010; closes Nov 21, 2010. http://www.roundabouttheatre.org/.