By Lucy Komisar
Jan 17, 2011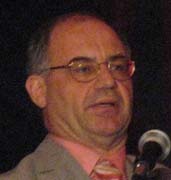 Bank whistle-blower Rudolf Elmer appeared with WikiLeaks chief Julian Assange in London today and announced that he had given WikiLeaks two CDs with information about more than 2,000 prominent individuals and companies who evaded taxes or were involved in other criminal activities.
He says he got the data from Julius Baer Bank & Trust Company, in the offshore Cayman Islands, where he was chief operating officer for eight years until 2002. Elmer goes to trial in Zurich Jan 19, charged with violating Swiss banking secrecy, which protects tax evaders. He pointed out that the documents he revealed were from Julius Baer in the Caymans, to which the long arm of Swiss law does not reach.
I used Elmer's documents two years ago to show how the Julius Baer group adopted a plan in 1996 to utilize its Grand Cayman shell company Baer Select Management (on whose board he served) to help Julius Baer Investment Management New York and JBIM London evade U.S. and British taxes.
Most mainstream and alternative media were uninterested in the stories.
Here are the links.
Evening Standard (London): Swiss bank's crafty strategy shows how difficult it is to clamp down on tax havens
Inter Press Service (IPS): How One Fund's Profits Ended Up in the Caymans
Another story, which followed up an Elmer document about a company, partly owned by Julius Baer and registered in the Cayman Islands and Liechtenstein, that sold tax evading annuities, was published only on this website, as the media was uninterested.
Ex-Rock Impresario Tony Defries lost $22 million in offshore tax evasion scheme
If the media cares about these stories now, it will show the power of WikiLeaks marketing. And underline the general failure of newspapers and broadcasters to cover such stories on their own.