By Lucy Komisar
Feb 5, 2011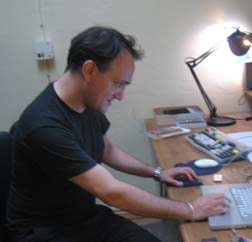 The final edit of a film about the jailed Russian oligarch Mikhail Khodorkovsky, a film to which I contributed, was stolen Thursday from the offices of German director Cyril Tuschi.
The documentary Khodorkovsky is to have its world premier at the Berlin International Film Festival Feb. 14. I did reporting for the film and also was video-interviewed for it.
It was the second theft. A few weeks ago, when Tuschi was in Bali on a working vacation to finish the film, his laptop with the version he was editing was filched from his hotel room.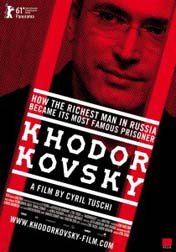 The movie, mostly in English, tells Khodorkovsky's story from his days in the Communist youth, where he got the cash to set up a bank, to the build-up of his oil empire and his political challenge to then President Vladimir Putin. Putin had told the oligarchs, men who had stolen the Russian patrimony to build their wealth, that he wouldn't bother them as long as they stayed out of politics. Khodorkovsky, however, sought to influence the Duma election. He was arrested in 2003 and then tried and jailed for tax evasion.
The film is generally sympathetic to Khodorkovsky, with a lot of footage of his family, friends and associates (I think he overdoes that) and an extraordinary interview that Tuschi got while his subject was in court. It also includes interviews with people who explain that the man was really a crook. Not enough of that. I would have been tougher.
Based on my research and evidence, Khodorkovsky did indeed get his Yukos oil empire by fraud and also evaded taxes. So did many other current titans of industry who made their deals with Putin and were not targeted.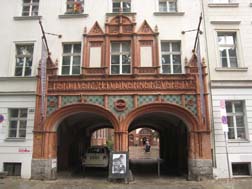 Two computer hard drives and two laptops with the final version of Tuschi's film were stolen Thursday night from his offices in an old brick building near the popular Hackescher Markt in former East Berlin.
The complex was once the Berliner Handwerker Verein (Berlin Craftsmen's Association), its name in a relief above the front gate, and a grubby back building has four or five floors of spaces used by film makers and other artists. Because so many people have keys to the building and come and go at all hours, it is not very secure. Berlin police are investigating.
The Berlin International Film Festival has an earlier version of the film, without German subtitles, which it will screen if the later copies are not recovered.
Khodorkovsky, who was to be released this year after eight years in prison, was just sentenced to another six years behind bars. That makes the film timely, but also a target for interests who want it suppressed.