By Lucy Komisar
Most of the characters in director August Pendleton's brilliant staging of Chekhov's Three Sisters live in hazes of self-delusion and despair lit by flashes of hope and bitter disappointment. That could represent the unhappiness of individuals, especially women, who have little ability to change lives without joy. It can also stand for the illusions of the burgers and small-time aristocrats who as a group also had no future in the moribund society of pre-revolutionary Russia.
Though with Paul Schmidt's fluid contemporary translation, this could all be happening today.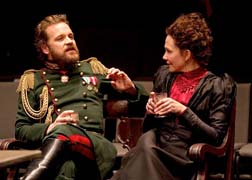 Masha was young when she married Kulygin in the belief that he was intelligent. In fact, though well-meaning, he's a bit of a fool. Lazar's smartly-designed Kulygin moves in almost choreographed bumps and jerks. Masha falls in love with Lt. Colonel Vershinin (Peter Sarsgaard), commander of a battery of soldiers currently billeted in the town. Gyllenhaal portrays Masha's desperation in manic-depressive shifts of joy and sadness.
Olga has no one; Hecht plays her with a solid, cool sensitivity, but also with a self-control that makes her seem to have given up hopes of losing herself in happiness. Irina has a beau, the appealing military officer Baron Tuzenback (Ebon Moss-Bachrach), but she does not requite his love. Rylance seems as if she will drown in melancholy. In a society where women lived through men, these women had few options.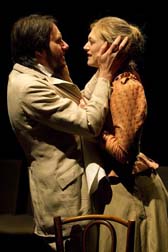 Except of course to game the men. Natasha (Marin Ireland), a giddy outsider who seems a few rungs below in status, excites brother Andrey Prozorov (Josh Hamilton). She even talks to him in French. Smitten, he gets her, but all doesn't turn out as he hoped.
Most of the characters will conclude that happiness does not exist for them. As Vershinin says, it may come to their descendants. And the old janitor, Ferapont (George Morfogen), remarks, What difference does it make?
The ensemble acting is luminous, reminding one of a series of impressionistic paintings come to life. It's a production that burnishes the Classic Stage's reputation for bringing new imagery and relevance to fine classic plays.
Three Sisters. Written by Anton Chekhov, translated by Paul Schmidt, directed by Austin Pendleton. Classic Stage, 136 East 13th Street, New York, NY. 212-352-3101. Opened Feb 3, 2011, closes March 6, 2011. www.classicstage.org/.