By Lucy Komisar
Jamie Jackson's musical satire is the funniest political skit I've seen in years and is a highlight of This Ain't No Tea Party! Jackson, who played one of the multi-characters in the demanding and hilarious The 39 Steps Off-Broadway last year, is a compleat actor. He was one of six performers at this political cabaret sponsored by Laughing Liberally, which promotes progressive politics.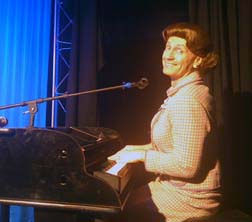 In a plumy British accent, popping eyes and a beige box suit and pearls, Jackson is Lady Margo Barnsley Farnsworth who has moved to the U.S. from England where she went to a lot of tea parties. She finds herself at the U.S. variety and makes herself popular by playing little ditties, such as We know that God is on our side/ Helping us from heaven/ ˜Cause he gave us each a Bible and/ An AK47.
But my favorite, which will certainly become a classic, is Guns don't kill people/ It's people kill people/ And guns are what stop people/ Shooting people with their guns./ If there weren't so many guns/ Then more people would shoot people/ Cause they wouldn't have a gun/ To shoot the people who have guns.
Lady Margo declares, It makes so much sense now that Tank [a gun-toting tea-bagger] explained it to me. And I thought, why stop at guns?
It's wonderful logic! So, let's keep going! Lady Margo declares, substituting Anthrax and bombs and then, Wars don't kill people/ It's people kill people/ And war is what stops people/ Making more war than you./ If there wasn't so much war/ Then there'd be a lot more war/ Cause you couldn't have a war/ To stop the people who have – guns.
Brilliant logic worthy of a tea-bagger, or most NRA groupies in Congress and out.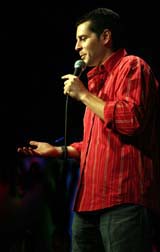 As timely as Jackson (who, alas, is ever timely), was Dean Obeidallah, a very funny laid-back stand-up comedian who does the Arab shtick and has performed extensively on U.S. TV and abroad. With a Palestinian father and Sicilian mother, he has insights into both tribes. For example, the difference between the Mafia and Al Qaeda is that Sicilians will deny responsibility for what they do.
Or You see four Arabs getting on a plane. You might go to the black guy you used to be afraid of!
He declares, I am totally immune to identify theft. I have a friend named Osama. He could leave his credit card in a crack house…. Or, if an Arab gets ripped off, he would complain, Someone stole my credit card. They're buying pork and alcohol!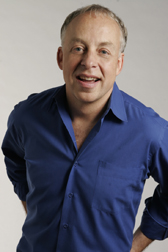 Equally sophisticated was Jim David, who has appeared widely on TV, has a smooth punchy delivery and gives a clever twist to current gripes and attitudes. For example, attacks on immigrants who come to take our jobs: What jobs? he inquires. They have all gone offshore.
I liked the bit in which he screams at an automated airline agent, who replies in a modulated voice, I'm sorry I did not quite get that.
And (the joke's on us): Every couple of years ordinary Americans go to the polls to pick who will represent the rich and powerful.
In between the acts were brief videos, including a good one about Somalia where there is no functioning government. Libertarian Paradise shouts the print. And a voice-over declares, Government isn't the solution to the problem. Government is the problem. Now you have cholera!
Ridiculing the right wing ought to be (pardon the metaphor) like shooting ducks in a barrel. There were six performers in the show, but the other three were rather pedestrian. Maybe Jewish and black-based acts have been done so long that they don't seem fresh. Or maybe the material I heard was just stale to start with. There are 14 rotating comics in the production, and six to eight appear at each performance. With luck and planning, you'll hit some good ones.
This Ain't No Tea Party. Written and performed by Jamie Jackson, Guns Don't Kill People;  Dean Obeidallah,  Jim David and others; directed by Justin Krebs. Midtown Theater, 163 West 46th Street, New York, NY. 212 967-7079. Drinks and snacks. Opened March 24, 2011, closes May 22, 2011. Extended Thursdays June 9th through September 1, 2011.   Laughing Liberally, a project of Living Liberally. Review on New York Theatre Wire.