By Lucy Komisar
The genius of Oscar Wilde's skewering of the British upper classes circa 1895 is that his satire is rather gentle, even affectionate, but his pointed steel neatly pierces the targets. In his deft and delightful The Importance of Being Earnest, he manages to get a few licks in at the literary establishment as well. All is done with enormous wit and panache, and not a trace of meanness.
The Roundabout Theatre production owes much to the flawless direction and acting of Brian Bedford. He is powerful in his portrayal of the dominating matriarch Lady Bracknell, the epitome of the hypocrisy and shallowness of British aristocrats that the Irishman Wilde found insufferable.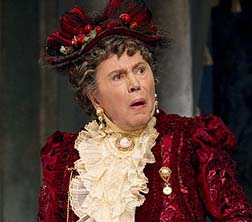 Bedford's visage is screwed into a permanent frown or glower. His character is chilling, heavy in spirit as well as size, rather like a general who goes around shaking his rules like a stick, yet whose genuflection to station can be overcome by money. Though Bedford is a man playing a woman, this character does not appear as a man in drag.
In the world that Wilde describes, members of the upper classes are useless, though some have wrong-headed convictions and other are merely frivolous. Even Lady B seems a Gorgon, but not necessarily an evil one. Theirs is world where people go to dinner and tea and back and forth between townhouses with servants and country estates with servants.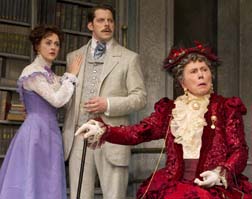 Where pedigree is all, what could be more distressing to Lady Bracknell than a suitor for her daughter Gwendolen (Sara Topham) who not only doesn't have appropriate parents but who as an infant was left in a leather satchel in the Victoria Station cloakroom. The satchel was given by mistake to a rich country gentleman Thomas Cardew who adopted the foundling and named him Worthing because he had a ticket to Worthing in his pocket. And then there's his first name, on which hangs a long joke of the play.
Worthing (David Furr) has been brought up in privilege, endowed with class values. Finely portrayed by Furr , he is a traditional, serious, intense man committed to the social system, including marriage. Not so his pal, Lady Bracknell's nephew, the buffoonish Algernon Moncrieff (the quirky, appealing Santino Fontana), who comes with a pedigree and insists that nobody of their class works.
Gwendolen ridicules convention by making Worthing go down on one knee to propose. The fetching Topham seems to float and flutter like a white bird on the wings of her chirpy, trilling voice. The plot thickens because both men practice deception, Worthing to get away from the Shropshire country estate where he lives with his ward, Cecily (Charlotte Parry), the granddaughter of his benefactor, and Algie to escape from town.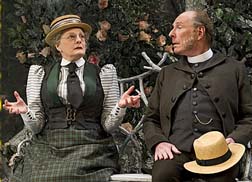 When we get to the estate, we see how stultifying social rules also afflict the lower middle classes. Miss Prism (Dana Ivey), Cecily's governess, is as stolid as Lady B and as tightly tied by propriety, but her infatuation with the Rector (Paxton Whitehead) lights a spark that makes her seem about to burst with suppressed desire. Ivey is brilliant, shaky and high-pitched. Her mouth is pulled down, but her eyes sparkle and roll. From a critic of the upper classes, Wilde moves to a fonder spoof of the fanciful absurdities of romance. Cecily, for example, writes everything in her diary, including fantasized engagement letters. Parry has a comic seductiveness as the breathless ingénue.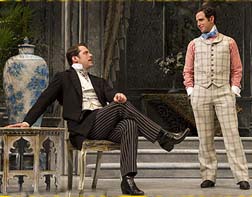 Wilde spices the script with wonderful literary digs and bons mots. Algernon tells him, Literary criticism is not your forte, my dear fellow. Don't try it. You should leave that to people who haven't been at a University. They do it so well in the daily papers. The Rector notes that he has preached his sermon on the meaning of the manna in the wilderness as a charity talk on behalf of the Society for the Prevention of Discontentment among the Upper Classes. We learn from Lady B that the university extension service is sponsoring a lecture on The Influence of a Permanent Income on Thought.
Desmond Heeley's stunning sets and costumes move the action from a pale violet London drawing room to a gorgeous garden and summer house where the elegantly clad ladies, and I include Lady Bracknell, turn and preen. This production is in every respect a charmer.
[After the March 20th performance, Jayne Houdyshell will replace Dana Ivey as Miss Prism, Brian Murray will replace Paxton Whitehead as the Rector, and Jessie Austrian will replace Sara Topham as Gwendolen Fairfax.]
The Importance of Being Earnest. Written by Oscar Wilde; directed by Brian Bedford. Roundabout Theatre Company, American Airlines Theatre 227 West 42nd Street, New York, NY. 212.719.1300; http://www.roundabouttheatre.org/broadway/theimportanceofbeingearnest/. Opened Jan 13, 2011; closes: July 3, 2011. Review on New York Theatre Wire.