By Lucy Komisar
Benefactors begins in 1968, during an era when England was building controversial housing projects. It was written in 1984 by Michael Frayn, who two decades later authored Democracy, the powerful recreation of West German Chancellor Willy Brandt's early 70s dealings with East Germany. In both cases, in overlapping eras, the personal becomes political, and there is a strong ideological message that expresses Frayn's general concern about democracy, writ small and writ large.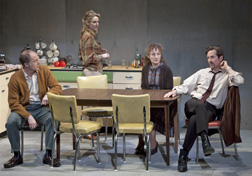 As a slice of British social history this play is interesting, though it also seems dated, in spite of the very professional efforts of the actors and Keen Company director Carl Forsman.
The characters appear to inhabit a long-running soap opera.
The action takes place around the kitchen table of David (Daniel Jenkins) and Jane Kitzinger (Vivienne Benesch). David, an architect, is in charge of a slum clearance project to build some council flats – public housing. He is idealistic about creating worthy spaces and insists, I am not going to build towers. However, the requirements of a government subsidy will require some high-rises.
People in government want to help the poor. Of course towers are not what anyone wants. But construction and other exigencies move the well-intentioned bureaucrats to increasingly ignore the best interests of the people they are supposed to be benefiting.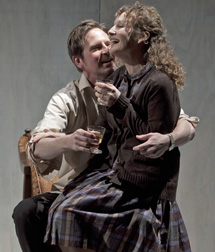 Then there's the couple across the way, Colin Molyneux (Stephen Barker Turner), a hack journalist, and Sheila (Deanne Lorette), his wife, a nurse. He is nasty and overbearing to her; she is timid and insecure. She seems down-trodden.
David and Jane try to help by making their house a refuge for Sheila and her kids. Colin responds by leaving his wife and organizing a movement to stop the redevelopment scheme.
Colin mines irony by calling the Basuto Road slum area Basutoland, which has an African sound and mimics the white man's burden attitude toward the poor.
By 1984, we learn what good intentions have wrought with the project and the Molyneuxs.
This is a small play compared to Democracy (2003) and to Copenhagen, Frayn's other major political drama, which opened in London in 1998. But it's worth seeing for people interested in the trajectory of his work.
Benefactors. Written by Michael Frayn; directed by Carl Forsman. Keen Company at Clurman Theatre, 410 West 42 Street, New York, NY. 212-239-6200. Opened April 5, 2011; closes May 7, 2011. Also on New York Theatre Wire.