By Lucy Komisar
Alfred Uhry's charming, moving play is part of his Atlanta trilogy about Southern Jews in the middle decades of the last century. Through the conflict and then growing warmth between an elderly middle-class white woman and a middle-aged working-class black man, one gets a sense of how human contact can break or at least crack the barriers of color and class. The production is a tour de force for Vanessa Redgrave and James Earl Jones.
The play opened off-Broadway in 1987 and won the Pulitzer Prize in 1988.
Daisy Werthan (Redgrave), 72, is a widowed former school teacher when the play starts in 1948. She is proud of her poor beginnings and commitment to education, imbued with Jewish identity — annoyed at Jews who celebrate Christmas. Werthan is brilliantly portrayed by Redgrave who seems to age before our eyes in the several decades in which the events take place. Her face becomes more lined, her posture more stooped, but as her body deteriorates, her spirit never lags.
That is partly due to Hoke Coleburn (Jones), the black man hired by her son Boolie (the very good Boyd Gaines), owner of a printing plant, to drive her after she smashes her Packard into a neighbor's garage because she put it in the wrong gear.
Hoke is a yassuh guy who walks heavily and uncertainly and is almost stereotypical in the way he addresses Boolie. Jones is extraordinary in the role, sometimes bloviating a bit to cover up his insecurity. But though she may not know it, he becomes a necessary part of Daisy's life.
Director David Esbjornson stages the play with no unnecessary sentimentality.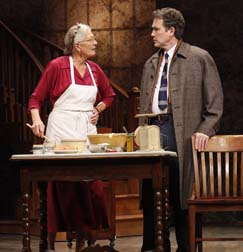 Hoke and Boolie must contend with Daisy, a stubborn and single-minded woman whose tight face seems to say she will brook no opposition. She has definite ideas of what is right. For example, she disapproves of her son's wife whose idea of heaven is socializing with Episcopalians.
Daisy insists that she is fair minded, but an innate race and class prejudice shows through when she accuses Hoke of stealing a can of salmon. It turned out there had been nothing for him to eat the day before, but when he arrives for work and she raises the issue, he pulls out of his pocket a brown paper bag with the can he had just bought to return.
Her accusation may have been part of the rigid sense of rules that are part of her world.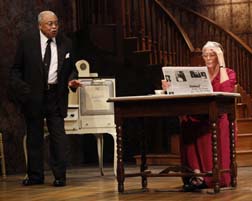 But she is na¯ve about the wider world. When she discovers after five years that Hoke can't read, she can't believe it. Ever the teacher, she begins to instruct him.
In 1958, someone bombs the temple she attends. She is astonished and wonders who it could be. Hoke tells her, You know as well as me, it's always the same ones.
She thinks herself liberal about race, but that extends only so far. In 1963, when she has an extra ticket to a Martin Luther King banquet, she does not invite Hoke.
He is the more sensitive of the two. Jones glows as he reveals an increasing sense of self and also a concern and growing affection for Daisy, who never seems to loosen up. But Uhry describes elegantly what can happen when people thrown together by force of circumstance discover the human propensity for companionship.
Driving Miss Daisy. Written by Alfred Uhry; directed by David Esbjornson. John Golden Theatre 252 West 45th Street, New York, NY. (212) 239-6262. Opened October 25, 2010; closes April 9, 2011. Also on New York Theatre Wire.