By Lucy Komisar
Personal and family connections are fraught with psychological peril, disappointment, sometimes joy. It's the stuff of many, even most, plays, films, novels. Bathsheba Doran weaves those strands into a complex web and network that connects and sometimes sustains lovers, friends, parents and children.
It is a slim but appealing fabric, made richer by Sam Gold's smooth, light touch.
There are many kinds of kin, read relationships. Anna (Kristen Bush), an adjunct at Columbia University, listens to her lover, an English professor (Matthew Rauch) tell her why it's over. Did we ever love each other? he asks. No, she replies. So, forget that.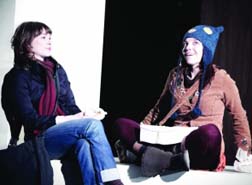 Helena (Laura Heisler) a somewhat weird and unsuccessful would-be actress, finds it offensive that her friend Anna would go out with a critic met via the Internet: That's someone who is trying to kill me.
Linda (Suzanne Bertish), traumatized by a past event, refuses to go out of her cottage in Ireland, and has no one to talk to but her brother Max (Bill Buell) and, on long phone conversations, her son Sean (Patch Darragh) who has gone to America.  She is despondent and drinks. It turns out that Sean's former girlfriend (Molly Ward) also had a drinking problem.
Life gets darker and darker. Anna's father Adam (Cotter Smith), an Air Force intelligence colonel, lives in Texas and is unhappy about his distant daughter. On the way to visit her in New York, he stops in Washington at the apartment of a former lover (Kit Flanagan), who is seriously ill. She says, Don't show up at 4 am asking for my help and yell at me. I am not a wife.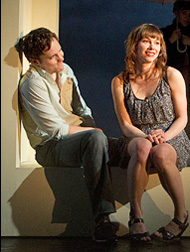 Later, Anna confronts Adam with the diary of her late mother in which she complains that her husband was cold and distant.
Love or failed love and loneliness inhabit all these relationships. So is there hope for any of these people, in particular the younger ones and the new couple, Anna and Sean, we are supposed to care about? Not very likely on the face of it. She is an academic writing a book about Keats punctuation called The Grammar of Love. When it's published, she flies around to world to deliver papers at conferences. He is a personal trainer without any intellectual bent that can be noticed. I whispered to my companion, I give it a few years at most. What do they talk about?
Two different worlds, even in jokes. When Adam visits Sean's mother in Ireland, she says, Tell me something classified. He says, The government was responsible for 9/11. She: Really? He: No.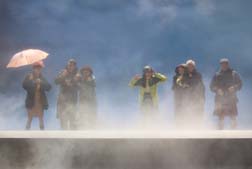 The casts is a fine ensemble, with Bush a sympathetic Anna, Heisler appropriately flaky as Helena, Smith good as a man used to being in control who can't manage Anna, Darragh with the right touch of uncertainty as Sean, and Bertish very fine as his insecure mother.
The play moves between vignettes in ethereal fashion, helped by Paul Steinberg's sets that are just boxes and frames with backdrops and by flute music between the scenes. When the characters all meet in Ireland, the mist makes one wonder if it means the future is a mirage.
I can't say I believed Doran's vision, but I found it charming, even compelling, nonetheless.
Kin. Written by Bathsheba Doran; directed by Sam Gold. Playwrights Horizons, 216 West 42 Street, New York, NY. 212-279-4200;   Opened March 21, 2011; closes April 17, 2011. Also on New York Theatre Wire.