By Lucy Komisar
Michael Halberstam's chamber music version of Shaw's Candida is a charming and exhilarating production about male-female relations in earlier days of the battle for women's sexual freedom. The story is adapted by Austin Pendleton from Shaw's 1898 version of the play, which he revised in 1930, when post-flapper era so much in society had changed. At the turn of the century, women were even more psychologically and materially dependent on their husbands.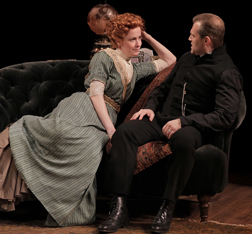 Halberstam and Pendleton show us a woman who takes charge of her own emotional life. Candida Morrell (the excellent soprano, Kate Fry) is a smart woman married to what might appear to be a progressive man. Rev. James Morrell (the always fine baritone Marc Kudisch) is a Christian Socialist minister who preaches to a broad audience. When his secretary tells him the Hoxton Freedom Group wants him to address them, he declares, Just like Anarchists not to know they can't have a parson on Sunday morning.
He is desperate to see Candida, who has been out of town: My Candida's coming home today! he sings. And when she arrives, she vocalizes, Oh the enchantment, the joys of home, the joys of wife and motherhood.
A perfect marriage, right? But Morrell is still a man who thinks his importance trumps the desires and yearnings of those around him. He is oblivious, for example, that his secretary Miss Proserpine Garnett (the very strong Liz Baltes) has a crush on him and is jealous of his wife.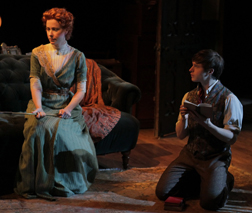 The privileged Candida seems just a bit bored. Perhaps that is why she doesn't immediately squash the verbal advances of the infatuated young poet Eugene Marchbanks (an appealing Bobby Steggert), who Morrell had found sleeping on an embankment and who, in his early 20s, is 15 years her junior. Steggert seems a bit younger than I'm used to seeing as the Marchbanks in Shaw's play, too young to be considered seriously as a rival to Morrell. There's never a moment when you take such a liaison seriously.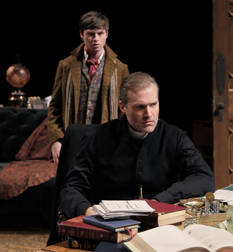 Candida says all the right feminist things. As the Reverend expresses concern about the personal developments, she recalls it was her father who taught me to think for myself. And, Don't put your trust in my goodness. Marchbanks also gets into the debate. And when Morell orders her to choose between him and the poet, she declares, I am up for auction it seems. What do you bid, James?
Since this is Shaw, there are of course other moral challenges. Candida's father made money from sweatshops.
The plot, in fact, is a little silly, but what makes this production pulsate is the modern music by Joshua Schmidt, (who people may remember as the brilliant composer of the The Adding Machine, based on the 1923 Edgar Rice play), the recitative by Jan Levy Tranen and the voices of the ensemble, especially Fry, Kudisch and Baltes. In all, quite an elegant Lincoln Center event.
A Minister's Wife. Based on the 1898 version of Candida by George Bernard Shaw; adapted by Austin Pendleton. Conceived & directed by Michael Halberstam. Lyrics by Jan Levy Tranen; music by Joshua Schmidt. Lincoln Center at Mitzi Newhouse Theater, 150 West 65th Street, New York, NY. 212-239-6200. Opened May 8, 2011; closes June 12, 2011. Also on New York Theatre Wire.