By Lucy Komisar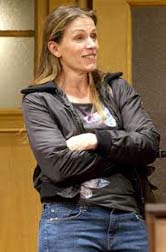 The struggles of the working class are starkly depicted in David Lindsay-Abaire's striking portrait of a handful of friends in Boston's Southie neighborhood. At a time when economic decisions by the government leave millions of workers in the dust, it's a political as well as social commentary.
Single mother Margaret (Frances McDormand) has lost her job as a Dollar Store cashier because she was too often late"forced to stay home to deal with a retarded daughter. The father skipped out years ago.
She is desperate for a job, though she will do anything to avoid going to work at the Gillette factory, which seems to represent the lowest depths to which anyone could fall. McDormand gives a searing performance.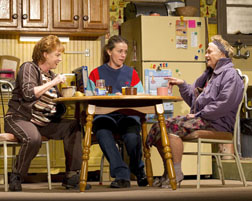 Her friends Dottie (an inimitable in-your-face Estelle Parson) and Jean (Becky Ann Baker) commiserate and join her at church bingo, the highlight and hope of their days. Director Daniel Sullivan treats them with sympathy, without covering over the dreariness of their lives.
Mike (Tate Donovan), a high school boyfriend, escaped Southie and its despair by work and luck, getting into college and medical school. Now, he's a fertility doctor. It is ironic, since a kid sandbagged Margie (with a hard g), that making kids makes money for him. She goes to his office and asks him – virtually begs him – for a job.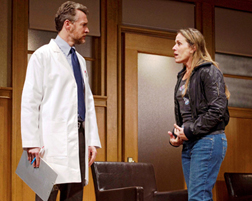 They both have the same Boston accent, but that's where it ends. She wears jeans and a brown windbreaker and is a bit coarse in her language. He wears his prosperity. She accuses him of being lace curtain Irish and challenges his moving to upscale Chestnut Hill.
The surprise twist occurs after he lets slip that he and his wife are having a birthday party for their child. She virtually invites herself. Later, he disinvites her, saying the daughter is sick. She doesn't believe him and shows up.
The suburban house is stunning, with a beige living room of brick walls and stuffed furniture (set by John Lee Beatty). The visit is disastrous. Margie is flummoxed when Mike's wife Kate (a charming Renée Elise Goldberry) asks about her preference in wine. All goes downhill from there. There is a lot more to Kate, but the surprise shouldn't be revealed in a review.
A friend I took to the show walked out at intermission, saying the play was disrespectful to the working class. It is true that Margie and her friends were made to seem boring and somewhat crude. But Lindsay-Abaire is realistic. Margie struggles in a society that, after a financial collapse provoked by the sleazy practices of the big banks, offers no help to her to get a good job, no social services to babysit her daughter. It's hard to harvest charm from a life of quiet desperation. The irony of the   message is probably lost at the upper reaches of the Bank of America, which provided funds to MTC to commission this play.
Good People. Written by David Lindsay-Abaire; directed by Daniel Sullivan. Manhattan Theatre Club at Samuel J. Friedman Theatre, 261 West 47th Street, New York, NY. 212-239-6200. Opened March 3, 2011; closes May 29, 2011. Review on New York Theatre Wire.