By Lucy Komisar
Like the wind and rain storm that swirls around him as he wanders lands he once oversaw, Derek Jacobi blows fiercely in fury at his faithless daughters. His face is red almost to bursting in disbelief. His eyes could sear with their gaze. Yet, in Jacobi's powerful, dominating portrayal in the Donmar Warehouse production at the Brooklyn Academy of Music, this King Lear's howling anger at how his royal state has been eclipsed is the other side of a royal flaw. It is the mistake of the self-absorbed and powerful who believe the ingratiating lies of their courtiers. And relatives. Both Lear and his loyal Earl of Gloucester (Paul Jesson, quietly moving in his misery) are outmaneuvered by evil progeny.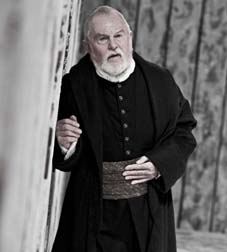 Michael Grandage's stunning naturalistic staging of Shakespeare's Lear turns their tragedy into the quite human foibles of bad judgment and misplaced trust. It could happen to any man. Lear thought of himself as so kind a father, but his petulance and self-centeredness made him easy to manipulate and play for a fool. He is even charmed by the voice of his perfidious daughter Goneril (a cold, calculating Gina McKee). When he demands that he keep a certain number of knights at his daughters' homes, you see a man not used to hearing no.
Once his daughters have his lands, dismiss him and eject him from their homes, Jacobi's voice changes from hoarse to almost chirpy, the sound of a person without power. He vacillates between half craziness and a kinder, gentler manner. He appears to shrink physically as well as in his psyche; his face seems gaunt. Now he has a sense of reality about authority. He tells Gloucester, A dog's obeyed in office.
Knowledge comes too late. Lear's famous curse laid on Goneril is that she be infertile or that if she has gives birth, she learn how sharper than a serpent's tooth it is to have a thankless child! McKee and Justine Mitchell stifle emotion and are scheming and heartless as Lear's daughters Goneril and Regan.
But the predators become the prey when they show a sexual interest in Gloucester's resentful and traitorous illegitimate son, Edmond (Alec Newman). Newman is almost rat-like with his taught body, his piercing flashing eyes.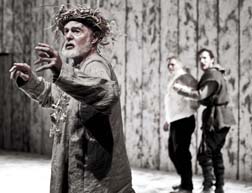 The play presents stark dichotomies between good and evil. That gives rise to Shakespeare's favorite mixing of personal relations and conflicts with hunger for fortune and power. Goneril's punishment is foreseen as her betrayed husband the Duke of Albany (Tom Beard) tells her, You are not worth the dust that blows in your face. Both Albany and Regan's husband, the Duke of Cornwall (Gideon Turner), seem weak.
On the other side you see the moral winners. Gwilym Lee as Edmund's half-brother Edgar, feigning madness in exile, is excellent as his caring, sensitive opposite, the true son of his father Gloucester. Michael Hadley is also sturdy as the loyal banished Earl of Kent.
The sense of timelessness — the play dates to 1605 — is emphasized by the black- and gray-draped costumes that could be from any era. The backdrop of walls seems colored by irregularly slapped on white and gray paint that sometimes by lighting seems like carved stone. No other set is required. It's all the more powerful when the drab colors are splattered blood red. Light and steam, forces of nature, come up through cracks in floor boards and walls. (Set and costumes are by Christopher Oram.)
I am a man more sinned against than sinning, says Lear, his heart broken. As Jacobi utters it, you can feel his majestic sorrow.
King Lear. Written by William Shakespeare; directed by Michael Grandage. Donmar Warehouse at BAM, 651 Fulton Street, Brooklyn, NY. (2,3,4,5 trains to Nevins Street). 718-636-4100; Opened April 28, 2011; closes June 5, 2011. Review on New York Theatre Wire.