By Lucy Komisar
It was 1935 Warsaw, and a small traveling troop of Jewish actors were playing the shtetl circuit, as they half affectionately, half mockingly called it. They did vaudeville, they did Shakespeare, they did the Bible. Raisel (Donna Murphy) as Moses' wife: You're going to do what? You can't even part your hair! The times are dark and the troop reaches for answers in absurdity: A pogrom is not an easy act to follow.
In Iris Rainer Dart's elegant, moving, powerful play, with fine, subtle direction by Leonard Foglia, the actors use satire and burlesque to cover up and challenge the horror around them, to bring a few moments of forgetting to the audiences at hidden stages in basements in the Nazi-terrorized city. The actors, among them Joyce Van Patten, are memorable.
Even in the war years, the troop is experimenting with motion pictures and has done a reel. Just as things are closing in on Jews in Poland, Raisel's lover, Chaim Bradovsky (Christopher Innvar) is invited to Hollywood. But Raisel refuses to leave the others.
We see the violence that decimates the company. Only some will survive, Raisel among them. But she will know the sorrow of a lost love and an almost lost child. Her daughter will be a flotsam on the shoals of the war.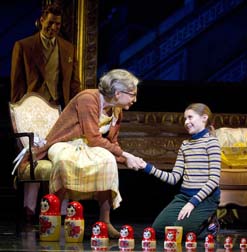 Years later in New York, Raisel wants to tell her granddaughter (Rachel Resheff) about her life in Warsaw. And about the man who was her lover, still a shadowy presence in her life. She relives it as she tells it, carrying us back to Poland and to numbers sung and danced by the excellent ensemble cast. The fine music – Klezmer, vaudeville, sometimes carnival sounds — is by Mike Stoller and Artie Butler.
Moving back and forth between the war years and 1977 in New York City, the play is a tour de force for Murphy, who turns young and old and young again with just the change of a wig and a shift of facial expression and body language.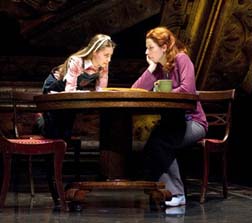 There's a secret to be uncovered that involves the three generations of women. Raisel's own daughter, Red, (Nicole Parker) is still angry and resentful about the past. Sometimes the story gets a little schmaltzy, but that is acceptable, given the circumstances. It's an unforgettable tale and a graceful production.
The People in the Picture. Book & Lyrics by Iris Rainer Dart. Music by Mike Stoller & Artie Butler; directed by Leonard Foglia. Opened April 28, 2011; closes June 19, 2011. Roundabout Theatre Company at Studio 54 254 West 54th St., New York, NY. 212-719-1300;   Opened April 28, 2011; closes June 19, 2011.