By Lucy Komisar
This is a terrific feminist juke box musical. It is based on the true story of Florence Greenberg (the excellent Beth Leavel), a New Jersey housewife who discovered the Shirelles, four Passaic, NJ, high school coeds, who she would make into a major singing group. She would, in the process, move to Manhattan, shed her traditional husband and take up with a young song writer. This was in 1958, before feminism became a mass movement. Also before Motown, before the Beatles. The visionary Flo and pop music would never be the same.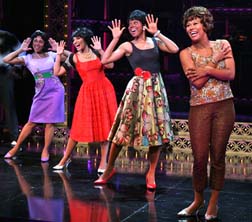 Greenberg's daughter Mary Jane (Erica Ash) discovers the girls in the school yard and alerts her mother. They are charming and have good voices, and they have a point of view: teenagers singing about teenage angst. I met him on a Sunday…
Flo's accountant husband Bernie (Barry Pearl) thinks she should be a housewife. Instead, she founds Tiara Records.
Leavel never suggests a woman who was beaten down, just one waiting for her chance. She'd met Bernie at 16; he was 18. They married three years later, 27 years before her liberation.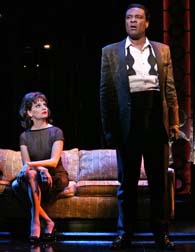 It doesn't hurt that she meets a much younger song writer, Luther Dixon (Allan Louis, with a melodious voice and presence) who joins the company and becomes her lover. He happens to be black; this is also before the civil rights movement.
She founds Sceptor Records — still the royal theme. And still the mother, she gives a job to her blind songwriter son. Flo becomes soigné and chic, hair in mod flip and bangs. She becomes the most successful female pop music impresario of the era.
The group that recreates Shirelles is excellent, especially Christina Sajous portraying lead singer Shirley with charm and a jazzy full rich voice. The sound moves from 50s doo wop to 60s rock. The music becomes sultry, like Moma Said in 1962. Flo produces Dedicated To The One I Love, He's So Fine, I Say A Little Prayer,   Twist and Shout.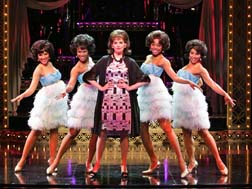 Leavel's own fine voice rings clear in the musical numbers.
The show proceeds on multiple levels: the musical idiom of the Shirelles, the feminist assertion of Flo Greenberg, and the personal difficulties of dealing with her husband and family. Her daughter is not in the business and feels neglected.
It's clear where the audience sympathies lie. They boo the sexism of Bernie's attitudes. There's also a sense of the politics of the times. Soldier Boy is about Vietnam. A gig takes place in segregated Atlanta where Luther and the Shirelles can't stay in the white hotel; so, Flo joins them in the black side of town.
Leavel expertly captures Flo's iron determination and single-mindedness. When Burt Backrack comes on the scene, she is not sentimental about hiring him to take over Luther's role as prime song writer. She discovers/invents a few other major talents, including Leslie Gore (It's My Party) and Dionne Warwick (Walk on By.)
Directors Floyd Mutrux and Sheldon Epps do an excellent job of integrating the story and the music, weaving in numbers sung by the Shirelles and some of the other stars Flo created.
Flo Greenberg outlasted the Shirelles. As usual, with them she chose business over sentiment. (But she bought them all houses in Passaic.) Born in 1913, she finally retired in 1970, but lived till 1995. Quite an extraordinary woman, quite a fascinating and entertaining play.
Baby it's You! Conceived by Floyd Mutrux; book by Floyd Mutrux and Colin Escott; directed by Floyd Mutrux and Sheldon Epps;   choreographed by Birgitte Mutrux. Broadhurst Theatre, 235 West 44th Street, New York, NY. 212-239-6200. Opened April 27, 2011. Also on New York Theatre Wire.