By Lucy Komisar
John Guare's 1970 dark comedy, in a brilliant revival by David Cromer, shifts between humor and tragedy as it traces the path that links illusion to delusion. As one morphs into the other, the differences appear increasingly subtle.
Artie Shaughnessy (Ben Stiller), whose job is to feed the animals in the Central Park Zoo, wants to be a Hollywood songwriter. He practices his creations on a spinet piano in a cluttered lower-middle-class apartment in Queens (set by Scott Pask) and takes them to the El Dorado bar amateur night, where patrons talk through his presentations. El Dorado of course is the magical place where people thought gold was buried.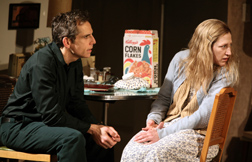 Bananas (the powerful and tender Edie Falco), with a cruel nickname mocking her mental state, can't function or even safely leave the apartment. There are window gates keeping her in as much as intruders out. She gets down on all fours, eats like a dog and barks and growls, both an expression of madness and an ironic allusion to Artie's profession. He cares for the animals more than for her.
Artie believes his wife of 18 years is destroying his life chances and takes up with neighbor Bunny Flingus (a mean and flighty Jennifer Jason Leigh). His fantasy, at 45, is that they will leave Bananas and go to Hollywood to jump-start his career with the help of a boyhood friend who is now a big-time producer.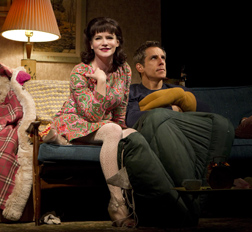 Bananas is schizophrenic, but Artie and Bunny are also desperate and delusional in their ways. Bunny gives away sex but not food. She says, I'll sleep with you whenever you want, but won't cook for him till they're married.
Sometimes Bananas seems more sensitive than the others. Artie stuffs her full of pills that make her not feel. She protests, For once let me have an emotion. Let the animals come out. His zoo animals are freer than she is.
It's a cold October 1965, the time of the Vietnam War and also the visit of Pope Paul VI to New York. In one of the funniest scenes of a tragedy that quickly veers into slapstick, nuns from Ridgewood, New Jersey (the very funny Mary Beth Hurt, Susan Bennett and Halley Feiffer), who have come to see the Pope, climb onto the Shaughnessy roof and are let into the apartment. The beer-swigging sisters, who act as if Paul VI were a rock star, fight over tickets to see him in Yankee stadium. I loved the heavy Brooklyn accents of the nuns and others that permeate the production.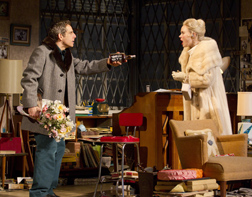 We also finally meet Artie's childhood friend Billy (Thomas Sadoski) and his fiancée Corrinna Stroller (the terrific celebrity-satirizing Alison Pill) who is planning to get an operation to cure her deafness. Artie, the musician who is tone deaf to his musical failure, talks to her, oblivious of her attempts at guess-answers.
There's more absurd slapstick and more tragedy, but one should leave some surprises.
And the title? Artie wants to put Bananas in a Long Island mental institution. Blue birds on tree branches outside the building make it appear to be a tree of blue leaves. But then the birds fly away. Thus are appearances shown to be illusions.
This is one of the great American plays, and this production — the cast and direction — is worthy of its brilliance.
The House of Blue Leaves. Written by John Guare; directed by David Cromer. Walter Kerr Theatre, 219 West 48th Street, New York, NY. 212-239-6200; http://houseofblueleaves.com/. Opened April 25, 2011; closes June 25, 2011. Also on New York Theatre Wire.