By Lucy Komisar
Stephen Adly Guirgis' play is a very funny, ironic, grungy and cautionary tale where four-letter words, sex and betrayal are mixed in equal parts in the down and dirty milieu of New York City drug addicts and their relatives and friends.
It starts at a residential hotel in Times Square. Jackie (Bobby Cannavale), just out of jail and on parole, is ready to take up again with his sweetheart Veronica (Elizabeth Rodriguez), but then he notices a man's hat on a bedroom table.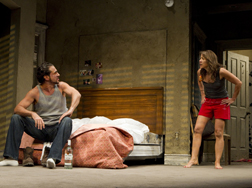 He accuses her. And the language she ripostes with is the rich idiom of the play: You have got this wrong, Jackie. You're so far out of line you're like in Zimbabwe or some shit…. I'm willing to put the ghetto on hold and eat some fuckin' pie with you, if you're willing to entertain the notion that you're a fuckin' retard ex-con who almost blew it cuz you got an imagination like — I dunno — Dr. fuckin' Seuss an shit. Okay?
Pause. He searches her eyes. Jackie: But you're lying.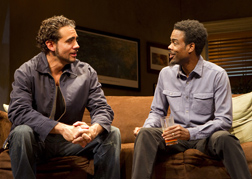 From there, with fast-paced direction by Anna D. Shapiro, Jackie proceeds on his own picaresque itinerary. It is a wild ride.
The first stop is his parole sponsor Ralph (Chris Rock), who runs a health food business out of an apartment in Hell's Kitchen. Ralph is full of good advice, what any middle-class self-improvement guru might give (he is learning French and showed up for jury duty), but he has his own difficulties with Victoria (Annabella Sciorra), the cursing, recovering addict he lives with. And he is not quite without blame.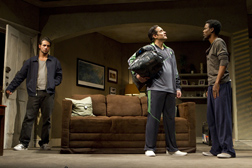 Then on to Jackie's cousin Julio (Yul V¡zquez) in Washington Heights. Julio offers him empa±adas, remarks that he was in a sex addiction fellowship, and agrees to hide the gun Jackie has obtained for revenge against the man with the hat.
The story is both real and surreal, connecting to experiences we know, but rooting them in the underclass. Ralph and Julio exchange cards about nutritional beverages and massage (Rolfing is Julio's specialty). Various members of the couples denounce their partners and also cheat on them with their supposed friends.
The play gets a lot of its spice from Guirgis's peppering the dialogue with obscenities. And from the in-your-face acting by Cannavale as the hoarse-voiced, dysfunctional Jackie. Cannavale is backed up with class (if that is the right word) by the rest of the ensemble. It's a play and production one won't soon forget.
The Motherf**ker with the Hat. Written by Stephen Adly Guirgis; directed by Anna D. Shapiro. Lyrics by Anna D. Shapiro, Music by Terence Blanchard. Schoenfeld Theatre, 36 West 45th Street, New York, NY. 212-239-6200. Opened April 11, 2011; closes July 17, 2011. Also on New York Theatre Wire.