By Lucy Komisar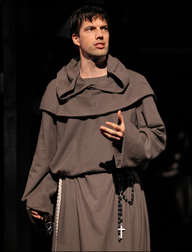 In a fascinating and occasionally lurid take on sex and hypocrisy — as current as it ever was five centuries past — The Public Theater's production of Shakespeare's Measure for Measure opens with horned demons slithering around stage. They will appear again at a bordello and elsewhere. Suddenly, a cover is pulled off a mound on a bed and horrific creatures scamper off, leaving the Duke of Vienna (Lorenzo Pisoni) awake and distraught at his sexual fantasies.
Shakespeare is examining the demons of fearful sexual visions, the kinds that turn people into furious sexual puritans and oppressors. As usual, he grabbed onto a major human foible. He also had the good sense to understand the hypocrisy of those who enforced sexually repressive rules.   And director David Esbjornson has succeeded in integrating a modern psychological analysis seamlessly into the play.
Is sex terrifying? Let's just forbid sex outside marriage and punish anyone who doesn't live by the ban. (This of course is not applied to the rich and powerful.) Understanding such timeless essentials is part of Shakespeare's brilliance.
The Duke has let the rules slide and after his sex dream he wants them restored – by Lord Angelo (Michael Hayden), clearly a more rigid, stern, austere personality. Hayden's portrayal shows him as cruel but somehow lacks depth or a sense of how he got that way.
The young Claudio (André Holland) has gotten his fiancée pregnant and offers Angelo his first opportunity as the enforcer of morals to sentence him to death.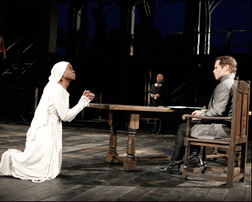 When Claudio's sister Isabella (Danai Gurira), a novice at a convent, comes to plead for his life, Angelo is turned on by her. His blood boils. (Being turned on by nuns of course is a staple of pornography. I remember visiting Spain just after the fall of Franco and being astonished at the new movie posters.)
Fit thy consent to my sharp appetite…redeem thy brother by yielding up thy body to my will, declares Angelo. And Isabella wonders, To whom should I complain…Who would believe me? Gurira conveys a strong, quiet passion.
There are also other pure and impure women. Mariana (Annie Parisse) was betrothed to Angelo who ditched her when her dowry went down with her brother's ship. Why would she still want him? Tonya Pinkins does a fine cameo as the madam, Mistress Overdone.
This wouldn't be Shakespeare without outrageous comic figures. Reg Rogers is good as the crude and self-involved Lucio, who is a friend of Claudio and invariably gets himself into trouble. In Rogers' inimitable style, he spits out his words and is physically flamboyant.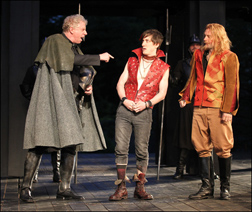 David Manis is terrific as Elbow, Shakespeare's favorite constable by many names and many plays, who murders the English language by saying the reverse of what he means. His foil is the excellent quirky, punky Carson Elrod as Pompey (allowing for some puns on Caesar). Curiously, the Duke as portrayed by Lorenzo Pisoni is rather laid back, laconic and charming, quite unlike a guy whose sexual demons set off the whole crisis.
Measure for Measure. Written by William Shakespeare; directed by David Esbjornson. The Public Theater at the Delacorte Theater, Central Park West and 81st Street. 212-967-7555. Opened June 30, 2011; closes July 30, 2011. Also on New York Theatre Wire.