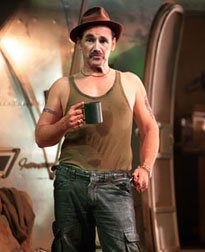 By Lucy Komisar
I hated this play by English playwright and film director Jez Butterworth. Yes I know it got plaudits and awards, but I thought it was pretentious drivel. The friend I took also hated it. Lest you think that was just an off night, her friend who attended at another time hated it. Nevertheless it was so powerfully acted by Mark Rylance and so vividly directed by Ian Rickson that we were annoyed and even angry, but never bored.
Johnny Rooster Byron, brilliantly performed by Rylance, is a moral and physical wreck. He limps. That is because he was a dare-devil motorcycle rider who bike-jumped over lines of buses. He didn't always make it. Now he makes a living by painting houses.
He is gross and crude. He is self-destructive. He is a drunk barred from every bar in town. He tells tall stories. One is about a 90-foot giant Druid. Or was it 100-feet tall? Perhaps it changes with the telling. Hmm, is this egregious failure also larger than life?
He lives in the woods of Flintock, Wiltshire, South West England. We are introduced to his home with screaming loud music and a light flashing outside a silver trailer appropriately called Waterloo. (He will meet his.) The yard is furnished with an old loveseat, a metal Coca-Cola sign, tires, dilapidated chairs, and a John Deere tractor. (The set is by Ultz.) He has lived there for 29 years.
Rooster is the leader of the Flintock rebellion. His followers are a group of educationally subnormal outcasts, drunk teenagers such as the bland, fat Davey (Danny Kirrane); the fat Tanja (Charlotte Mills) – is being fat a cause or result of their not fitting in? – and Lee (John Gallagher Jr), who says he is chucking it all and going to Australia. Rooster provides them with ample supplies of drugs and alcohol. He also gets visits from a retired poetry-spouting professor (Alan David) who always arrives in a beige suit and tie and finds in Rooster an audience.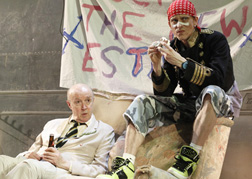 The rebellion is targeted at local government officials who want to serve Rooster an eviction notice so they can build estate (public) housing on land he is squatting. A sign on a white sheet declares Fuck the new estate.
Now we get to Jerusalem, which is supposed to be a metaphor for heaven on earth where people live in peace and in connection with the land. The notion dates to an early 19th-century verse by poet William Blake which challenged the encroachment of the industrial revolution with the promise: I will not cease from Mental Fight/ Nor shall my sword sleep in my hand/ Till we have built Jerusalem/ In England's green and pleasant land. It was put to music in England during WWI and became a popular hymn.
Are we supposed to believe that Rooster and his mostly dysfunctional hangers-on are bucolic creatures fighting the harsh incursions of the people in power who want to despoil their green and pleasant idyll? Remember that the new estate is not for high-priced mansions for the rich, but for houses for the working class.
Continuing the metaphor, this is the day of the annual town fair, where Rooster carried out his motorcycle tricks, but which has been ruined by corporations. A brewery is sponsoring a liquor cake. Wesley (Max Baker), a pub owner, stops by to complain that he may not go back home, because his wife keeps asking him about the washing up. The idyll of an idle man destroyed!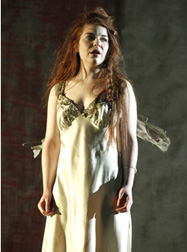 The hero – or anti-hero – Rooster also has problematic relations with women. Dawn (Geraldine Hughes) drops off their 6-year-old son Marky (Mark Page) for a visit. The idea that the apparently sensible Dawn would leave the kid with a drug and alcohol-dealing reprobate is hard to fathom.
The ethereal young Phaedra (Aimeé-Ffion Edwards), who sings Jerusalem at the start of the play, also has a connection to Rooster. She has disappeared and is being searched for by her angry father (Barry Sloane). The dénouement is horrific, but sorry if I can't express sympathy. If she and Rooster symbolize some kind of ideal or idyllic state, then judgment is stood on its head.
Rylance is indeed a great actor; he deserves a better play.
Jerusalem. Written by Jez Butterworth; directed by Ian Rickson. Music Box Theatre, 239 West 45th Street, New York, NY. 212-239-6200. Opened April 21, 2011; closes August 21, 2011. Also on New York Theatre Wire.
http://komisarscoop.com