By Lucy Komisar
Maria Callas' brilliance, as articulated by her dazzling stand-in Tyne Daly, was as much about discipline and courage, presence and presentation, as about hitting the right notes. Playwright Terrence McNally shows that through an imagined master class Callas gives late in her career. Working with students, she focuses on what makes a great star rather than a skilled performer. But McNally also creates a feminist parable of a woman who sold her soul for the lifestyle offered by a billionaire.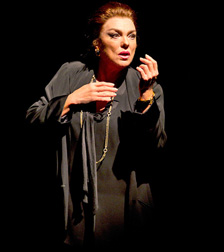 Daly as Callas is charming, funny, and often outrageous. A perfectionist, her Callas declares, Talent will get you nowhere. Every time a student sings a note, she interrupts: You sang it, you don't feel it. She highlights the passion part of music. And the theatrical presence: she tells the students to get a look.
She is tough, aggressive, devoted to the art. She says, I'm invisible, but she is not.
That is why it is so strange to see her relationship with the coarse shipping tycoon Aristotle Onassis, who declares, I bought you. You give class. I give you my wealth. You give me respect. And, with some irony, since he in effect did the same, The snobs want to take you to dinner. Director Stephen Wadsworth, shifting Callas' demeanor, lets us ponder the juxtaposition of her two conflicting elements.
Her memories of triumph are mixed with desperation at her relationship to Onassis. There was no love between them. Onassis wants her to have an abortion or he will leave her. She wants to marry him. From Tosca, she sings Ho dato tuto a te. I have given you everything. Why did she take up with him? She was a world-famous singer married to a wealthy industrialist. Why did she stay with him? A woman who was dominant in her career did not dominate her own life.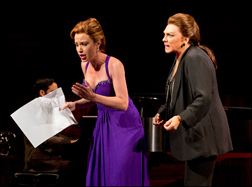 Callas as manipulated by Onasis reverses roles as Callas, the charming, assertive, self-centered, bully to her students. You don't get a sense of how they took that, but it is a joy to see and hear a singer such as Sierra Boggess, the student soprano, give a brilliant rendition of Lady Macbeth. Daly herself sings a few fine notes at the end. But the lesson, it turns out, is about more than music.
Master Class. Written by Terrence McNally; directed by Stephen Wadsworth. Manhattan Theatre Club at Samuel J. Friedman Theatre, 261 West 47th Street, New York, NY. Opened July 7, 2011; closes September 4, 2011. 212-239-6200. Also on New York Theatre Wire.