By Lucy Komisar
Loneliness and inhumanity are the themes of stark but elegant conception by Peter Brook and Marie-Hélène Estienne of a pastiche of Beckett mood pieces designed for Brook's Théâtre des Bouffes du Nord in Paris. They are dark and yet sometimes comical, as if one should not take the dreariness too seriously, a combination of Commedia dell' Arte and Mime, with an acting team at the top of its form. They show happiness and unhappiness dependent on oneself and on circumstances and on how one uses those circumstances.
In Rough for Theatre I, Jos Houben is a beggar with one leg and Marcello Magni is blind. Joe propels himself on a wheeled seat with a stick; Marcello plays a squeaky violin. What befell you, one asks. (It doesn't matter which.) Women, gambling, god.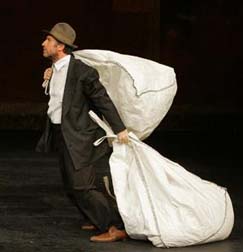 They are two wretches. The stick says why not die? The violin replies, I was not unhappy enough. They need each other, but they are cruel to each other. Brook and Estienne create figures that are both symbolic and real, both comic and despairing.
In Act Without Words II, Houben and Magni appear again, still as opposites. They are inside canvas bags. From the ceiling there descends a white rod which knocks each in turn. The first fellow, Magni, is a sad sack in a sack who can't do anything right. He puts on his pants backwards, his hat falls off, he bites into a carrot and spits the awful thing out.
But when it is Houben's turn, he is happy from the same experiences. He dresses correctly, he loves the carrot and returns to the sack a happy guy. So, joy in life comes out of ourselves.
Kathryn Hunter in Rockaby embodies the isolation of a woman's life in the trite, repetitive and ultimately enervating movement of rocking to and fro, like music with repeating riffs that don't ever change. The only existence she knows is sitting at the window, facing other windows, other isolated souls. Hunter makes the bleakness engrossing, hypnotic.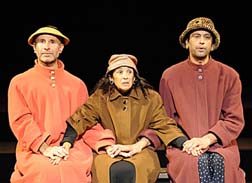 Even community in Beckett's view is barbed. Three old women in Come and Go, Magni, Hunter, and Houben are sitting on a bench, maybe a park bench. When one gets up and moves away, she is the object of the others' gossip, but the gossip is without any news. What do you think of Vy? I see little change. And a bit later, How do you find Flo? She seems much the same.
Nothing much happens, but maybe, after the bleakness we have seen, such equanimity is to be wished
Fragments. Written by Samuel Beckett, directed by Peter Brook and Marie-Hélène Estienne. Théâtre des Bouffes du Nord & Theatre for a New Audience, Baryshnikov Arts Center, 450 West 37th Street, New York City. 646-731-3200. Opened Nov. 13, 2011; closes Dec. 4, 2011.