By Lucy Komisar
Sutton Foster's performance in Cole Porter's frivolous, sophisticated Anything Goes glitters as much as the gold sequins on her clothes. She is one of the great musical actresses of our day, and she has a field day showing it in this 1934 musical, featuring a scintillating score with, in addition to the title song, numbers such as I Get a Kick Out of You, You're the Top, Easy to Love, and It's De-lovely. Porter's music and lyrics are still unmatched for invoking the spirit of light-hearted romance.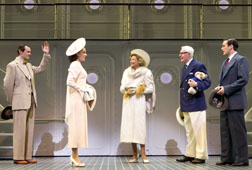 The original play by P.G. Wodehouse and Guy Bolton, with a new book by Timothy Crouse and John Weidman, is what you'd expect from the thirties. A gaggle of rich people is having a good time on an ocean liner traveling from New York to London.   Among them is the heiress Hope Harcourt (Laura Osnes) who is engaged to marry the stuffy Lord Evelyn Oakleigh (Adam Godley). But Billy Crocker (Colin Donnell), a stock broker in love with Hope, stows away to plight his troth. Foster is Reno Sweeny, a former evangelist turned nightclub singer, whose conversion is fortunate for all of us.
Into the mix come a couple of criminals of the non-threatening Guys and Dolls sort, including a Public Enemy, Moonface Martin (Joel Grey), on the lam. Fortunately for them, the passengers have been promised celebrities, but the captain has come up short. Well, maybe the script is not dated at all. In fact, it comes across as a satire of celebrity as the Public Enemy is saluted.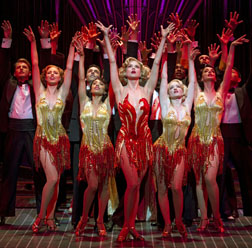 The Reno Sweeny–Moonface Martin friendship allows both actors to display their charming comic style. The cast's top-notch Broadway voices are tuned to sound like the thirties. The sailors-and-girls tap dance is dazzling. The direction and choreography by Kathleen Marshall is delicious, lively, stunning. Foster's jazzy Blow Gabriel Blow brings down the house. There's something to be said for the influence of evangelism, at least when it's musical.
The action takes place on the ritzy liner's deck, in staterooms and at the nightclub, (set by Derek McLane), which gives us a chance to see some elegant day outfits and shimmering evening dresses (costumes by Martin Pakledinaz).
It's The Top.
Anything Goes. Book by Timothy Crouse and John Weidman based on play by P.G. Wodehouse and Guy Bolton revised by Howard Lindsay and Russel Crouse; music and lyrics by Cole Porter; directed and choreographed by Kathleen Marshall. Roundabout Theatre Company, Stephen Sondheim Theatre, 124 West 43rd Street, New York City.  212-239-6200; . Opened April 7, 2011; closes Sept 9, 2012. A national tour begins in Oct 2012.