By Lucy Komisar
Cynical and romantic, and very sophisticated, No«l Coward manages to be all in this charming pas de quatre about the impossibility of love. And this was in 1930!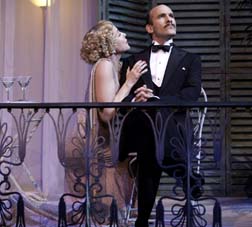 Two couples find their honeymoons in the south of France held hostage to the marriage that one of each duo had with the other five years before. Might not be a problem, except the sparks that ignited the earlier romance have not been quenched. In fact, it doesn't take much for the smoldering embers to ignite. Sometimes that produces a warm glow, other times a crackling conflagration.
The drama takes place on two adjoining balconies in a posh hotel on the C´te d'Azur. The decks are edged with wrought iron and furnished with shrubs and tables on which champagne and cocktails can settle.
Amanda (Kim Cattrall) is a very self-involved, very rich young woman who, apparently on the rebound, has married Victor (Simon Paisley Day), an exceedingly uptight pompous fellow who has a jutty chin and wears a vest, even on his honeymoon, until he changes it for black tie. She tells him You must try not to be pompous, dear.
Elyot (Paul Gross), Amanda's ex, has wed Sybil (Anna Madeley), a rather innocent but nudgy pest. He tells her, Don't quibble, Sybil.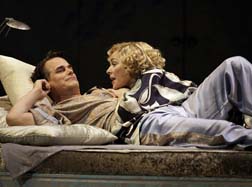 Amanda and Elyot take up emotionally where they left off, pulled together and driven apart. He tells her, You don't hold any mystery for me, darling, do you mind? There isn't a particle of you that I don't know, remember, and want. How's that for a compliment?
It's all light fluff, as fizzy as the champagne, but then like champagne it can hit you without warning. There are the mores of the thirties, but hoist on Coward perceptions:  It doesn't suit women to be promiscuous says Elyot to Amanda. To which she replies, "It doesn't suit men for women to be promiscuous.
Not surprising, their hot sexuality and flaming tempers erupt, reaching their apotheosis in her art deco apartment in the ritzy Rue Montaigne in Paris. Till the end, you can't predict what will happen.
Richard Eyre has mounted a terrific, enticing production and Cattrall and Gross are a delectable, seductive couple. They are well-balanced by Day and Madeley, as cool (and perplexed) as the others are hot.
Private Lives. Written by Noel Coward; directed by Richard Eyre. Music Box Theatre, 239 West 45th Street, New York City. 212-239-6200. Opened Nov. 17, 2011. Closes Dec. 31, 2011.