By Lucy Komisar
This could almost be about any wealthy family, except it is not, because they are black. The Levays (we meet the father and kids but not the wife) are rich, because Dad is a neurosurgeon. So they've got a summer house on Martha's Vineyard. In case you doubted his wealth, there is a Romare Bearden on the wall.
There's a bit about race – one of the sons has a white girlfriend, a college student has had an altercation with a white co-ed. But, somehow, once you get into the realm of rich people, the drama of race-connected issues such as poverty and discrimination disappears. And seems to be replaced by the politics of class.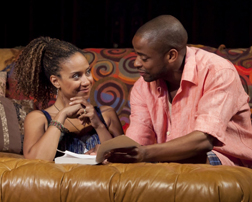 Son Spoon (Dulé Hill), who has law and MBA degrees, wants to be a novelist. He brings home his girlfriend Taylor (Tracie Thoms) who is doing a post doc on entomology (study of insects, to save you internet searching).
Dad (Ruben Santiago-Hudson), who doesn't want Spoon to be a writer, secretly reverts to ethnicity by sneaking snacks of pickled pigs feet.
The funny class joke here is that Taylor is knocked out that they are so rich. (The realistic set by David Gallo features an outside terrace with sand dune and dune grass as well as a charming upscale living room and kitchen.)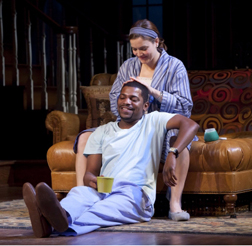 Son Flip (Makhi Phifer), a plastic surgeon, is bringing home his girlfriend, who he announces is Italian. A feeble joke. If she were European, would that make her less white?
From here, this could be any contemporary family melodrama (serious, but not too serious, and with a leavening of comedy), but in the hands of playwright Lydia Diamond and director Kenny Leon who gets the pace exactly right, it is not great drama but certainly engrossing and entertaining. This is a juicy family play. Diamond's deft writing saves it from being soap opera.
We discover, in a sequence that is rather winded and winding, that Taylor experienced racism from a white feminist at university, an experience that had such an effect on this otherwise very together young woman that she played solitaire the entire semester. Not really believable.
Taylor's hostility gets turned on Kimber, the Italian (Rosie Benton), who she starts cursing in street language, then catches herself: Did I say that out loud. It's what she was thinking, accusing Kimber, You grew up middle class, you had entrée. (Kimber? Is that a typical rich person's name or what?)