By Lucy Komisar
When disease ravages your body, how do you fight when your strength is your mind?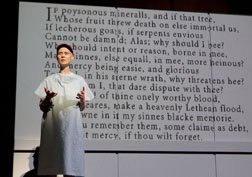 The irony of Vivian Bearing, a profession of John Donne's poetry, fighting a futile battle against Ovarian cancer, is caught in Donne's most famous work, Death be not proud. It is a challenge that says mortals will cheat death through eternal life. She quotes it: One short sleepe past, wee wake eternally,  And death shall be no more; death, thou shalt die.
But that's not Bearing's view as she contemplates the end of her own life. No thoughts about religion or calls for chaplains here. Her strength is from within, not from any fancied deity.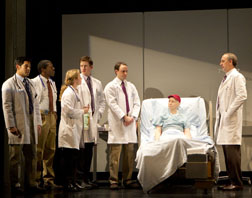 Margaret Edson's play incisively shows the struggle of an intellectual to use her own brain, her cleverness and indeed her wit to battle the distress, helplessness and often humiliation that come from being hospitalized and faced with death.
This is her defense against being an object, the subject of a research study of a tough experimental treatment carried out by doctors at the university hospital. This when she's spent her whole life in control. If she can't save her body, she can save her soul – her humanity – in the present. Forget about eternity.
Director Lynne Meadow understands that this struggle is the center of the play and presents Bearing with sympathy but not as an object to be pitied.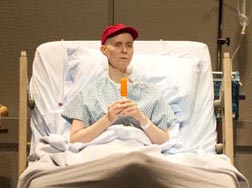 Pulling an IV pole or sitting in a hospital bed, a red baseball cap covering a scalp denuded by chemotherapy, Cynthia Nixon is cynical and acerbic as the 47-year-old professor. I confess to recalling Kathleen Chalfant in 1998 as more nuanced, with a voice less harsh, more colorful. But Nixon expertly portrays this unflinching woman's struggle to keep her soul.
She starts out flip, she plays with words, cancer, cancel, as if her mind can overcome her disintegrating body. What do you do for exercise? inquires Jason (Gregg Keller), a young doctor taking her history. She replies, Pace. And Are you having sexual relations? Answer: Not at the moment.
In the past, she was unyielding, even a bit contemptuous toward students who didn't meet her standards. Now she is playing with a nervous interrogator. It is her intellect's victory. For the moment.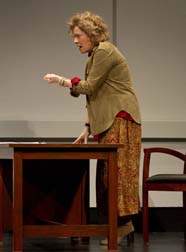 A standout supporting actor for her depth and virtuosity of characterizations is Suzanne Bertish, who first plays Professor Ashford to Bearing's graduate student, then a wide-eyed college co-ed, and again the professor, now retired, visiting at the hospital.
The production is an accolade to the human spirit.
Wit. Written by Margaret Edson; directed by Lynne Meadow. Manhattan Theatre Club at Samuel J. Friedman Theatre, 261 West 47th Street, New York City. 212-239-6200. Opened Jan 26, 2012; closes March 17, 2012. Review on New York Theatre Wire.