By Lucy Komisar
Athol Fugard's 1961 parable about apartheid South Africa, directed by the author at the Signature Theatre, blazes with its audacious concept and staging. It is one of those small number of plays that stand out for both their literary and political significance.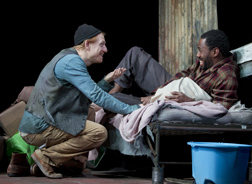 Two brothers have the same mother but different fathers, one black, one white. While the black brother, Zachariah (Colman Domingo), works as a guard at a white park, keeping out the black children, the white one, Morris (Scott Shepherd), prepares their meals and heats the water over a fire to soothe Zach's feet.
The performances by Domingo and Shepherd are stunning, and as this taut, gripping play has been directed by Fugard, its author, we know we are seeing exactly what he wanted to convey. It is a powerful message. Of course, apartheid South Africa didn't want to hear it. The play premiered in Johannesburg in 1961 with Fugard playing Morris, and the day after it opened, it closed.
Morris has turned up at Zach's wood and plastic shack in a black slum of Port Elizabeth a year ago, after spending years away, living white. He is very ordered in the scruffy room with its cot, plastic and wood crates and small old wood table. By an alarm clock ring, he heats the water, prepares dinner, reads from the Bible, orders nighttime prayers. His dream – symbolic again – is for them to use Zach's savings to buy a two-person farm in a blank space on the map of Africa. Morris plans for the two children of Mother Africa to prosper together.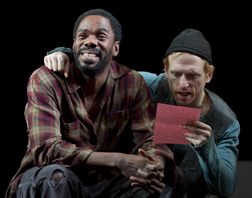 They grew up as brothers, yet they have different memories of the past. Zach recalls that his mother gave Morris the toy top. And the issues of apartheid still come between them. Before Morris came, Zach used to go out in the evening with his pal the lively, fun-loving Minnie. They would meet women. He misses that. Morris suggests he get a pen pal.
Inexplicably, Zach picks up a white newspaper, and the letter writer in the ad turns out to be white. With a brother who is a policeman! Zach likes the correspondence, but Morris tells him it's a dangerous dream. What have you thought? There's the crime…All they want for evidence is a man's dreams. The young lady writes that she is planning to visit their area. What to do!
Morris will pretend to be Zach. He wrote the letters anyway, since Zach is illiterate. So Zach spends his hard earned cash on spiffy clothes for Morris. But the problem is solved by the lady's change of plans.
They play games, remembering childhood fantasies in the shell of a car they imagined speeding through the countryside. Then, Morris puts on the new clothes and starts acting white: nasty and violent in scenes that are painful and almost surreal. He awakens Zach's fury.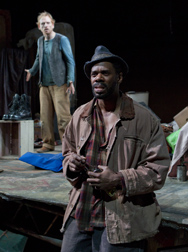 In the end, they seem a bit confused by what has happened. And maybe their dreams won't take place. Still, Morris reminds Zach that they are blood brothers.  Quite a message to 1960s white South Africans.
In New York, the play opened Off Broadway in 1964 and was staged on Broadway in 1986. It gave Fugard his deserved reputation here as a masterful playwright. This play, brilliantly written and staged, is not to be missed.
Blood Knot. Written and directed by Athol Fugard. Signature Center, 480 West 42nd Street (at 10th Ave.) New York City. 212-244-7529; Signature tickets are subsidized and cost $25. Opened Feb 16, 2012; closes March 11, 2012.