By Lucy Komisar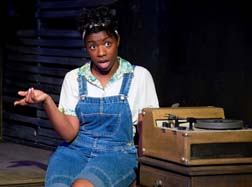 Monica Bauer's play about jazz and race, presented by Urban Stages, is a finely polished gem. Inspired by the playwright's youth in Omaha, Nebraska, it is a love song to jazz and its ability to unite people across color lines and also a sorrowful memoir of the time in the sixties when racism erupted into riotous violence. Director Frances Hill uses frequent jazz passages and projections (by Kevin R. Frech) to create mood and reality in an intimate space.
Vivian Strong (excellently portrayed by Danielle Thompson) is 14, smart, sassy and black. Mary Margaret Irzandowsky (Rosebud Baker), Polish, is a few years older and enamored of music. They live in parts of town so divided from each other and so distant that it takes a few buses a few hours to get from one to the other.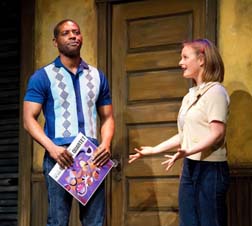 Mary Margaret wants to study business, because she figures if she doesn't, her choices are to be married or to be a nun. She gravitates to the music store run by George Hallewinski (Scott Robertson), who tutors her in his favorite instrument, the accordion. The better to play Polish polkas. Baker's depiction of the young woman is sensitive. In fact, all the actors in this production are first rate.
Into the shop wanders Luigi Walls (Royce Johnson), a black man who plays the drums. Johnson's Luigi is a charmer. He is modeled on Luigi Waites, Bauer's drum teacher in Omaha. George hires him, and Mary Margaret becomes entranced by his music and commits to learn to handle the sticks. The two men also connect over music.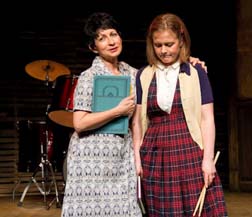 It's a time of black militants, and the Black Panthers are holding meetings on street corners and singing James Brown's "Say it loud, I'm black and I'm proud."
The harmony is wrecked by Helen (Janice Hall), George's wife. She doesn't like a black man in the store. She definitely doesn't like Mary Margaret taking lessons from him. Because "the ladies of the Sodality," of which she hopes to be president, would not approve.
After Helen presses her husband to fire Luigi, the young girl takes the long multiple bus ride from the white part of town to Luigi's Dreamland jazz hall to continue the lessons. When Helen finds out, she is furious, declaring the visits "an occasion of sin."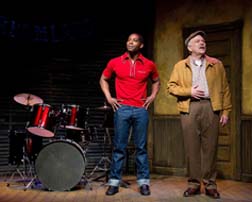 Vivian also visits Dreamland, loving the music and sensing a connection to Luigi she can't quite understand. And even George sneaks over, because he is enchanted with the music and wants to sit in the band.
The intertwining of jazz and story relieves tension and reminds the audience how good this music really is! The isn't a musical, but it is definitely a play with a lot of music. The jazzy interludes, the white Dave Brubeck and the black John Coltrane and Ella Fitzgerald, also tell us subtly that race doesn't matter in things like music that really matter.
We learn that unfortunately, sometimes other realities intrude.
"My Occasion of Sin." Written by Monica Bauer; directed by Frances Hill. Urban Stages, 259 West 30th Street, New York City. 212-868-4444. Opened March 21; closes April 15, 2012.