By Lucy Komisar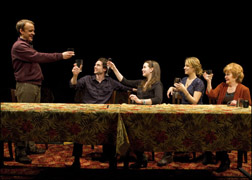 A luscious feast for the soul, "The Big Meal" by Dan Le Franc is a simple but charming, sometimes lighthearted, sometimes serious family drama with four pairs of males and females playing characters as they age through 80 years and four generations. The notion is simple and might be a bit schmaltzy, but under Sam Gold's crisp direction, it is smart and sensitive.
Perhaps LeFranc was inspired by Thornton Wilder's "Our Town" and "Long Christmas Dinner," both about the families in the passage of time.
The play starts out when Nicole (Phoebe Strole) a young waitress picks up a guy, Sam (Cameron Scoggins). She's not looking for a relationship, she informs him. "Do you want to mess around?" He responds coolly, "I'm a male!"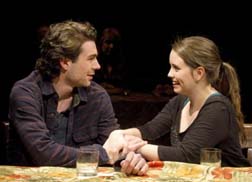 A minute passes, they shift or turn at the table (of life) and a minute becomes months. They fight, split up, make up, he pulls out a ring. She declares, "I'm not wearing underwear." Strole is the perfect young modern woman who finishes her sentences on the upswing and Scoggins is a charming intense young guy.
All of a sudden we're assaulted by a couple of noisy, obnoxious kids Maddie (Rachel Resheff) and Robbie (Griffin Birney). The two are terrific brats. Some years have passed for their parents, Nicole and Sam.
Move time ahead, and the parents are played by the excellent Jennifer Mudge and David Wilson Barnes, who express the edginess as well as love of marriage. Their daughter (Strole) brings home a series of boyfriends who change so fast that dad can't keep up with their names. Son and daughter (Strole and Scoggins) fight over who gets the car.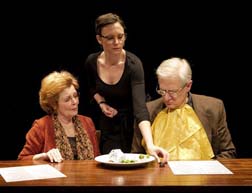 And so it goes, including grandma and grandpa, Anita Gillette and Tom Bloom, both fine as a delightful lady with salty speech and an irascible old guy, who in time will become Nicole and Sam.
The scene continues to be a dining table, sometimes one long one, sometimes divided. Along the way a server (Molly Ward) arrives to place a plate of food before one of the characters. It is the last meal of the Big Meal of life, of which the characters have their fill.
It's a tasty repast for the audience as well.
"The Big Meal. Written by Dan LeFranc; Directed by Sam Gold. Playwrights Horizons at 416 West 42nd Street between 9th & 10th Avenues, New York City. 212-279-4200. Opened March 21, 2012; closes April 29, 2012.