By Lucy Komisar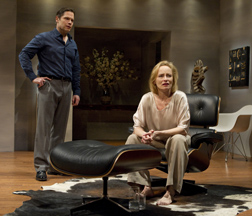 The Signature Theater Company revival of Edward Albee's 1977 play is subtle and biting at the same time, an allegory wrapped in what could have been a dark neighbors sitcom.
The party that Sam (a sensitive Michael Hayden) and Jo (a tough and powerful Laila Robins) are hosting in their suburban house for some friends seems pretty deadly. How can they be having a party when Jo is dying of a cancer which occasionally sets her to writhing in pain. She makes it pretty clear, pretty early: "I am your wife and I am dying."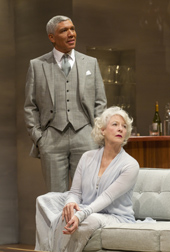 There may be African sculptures and a Jasper Johns on the wall, but there's nothing intellectual about this gathering. Sam fills the empty spaces with a game of Twenty Questions. The four guests, especially Fred (C.J. Wilson), help themselves generously to liquor. One comments that, "It was your nice average desperate evening."
Fred is especially obnoxious, which makes you wonder why Carol (Tricia Paoluccio), albeit she is not overly bright, wants to be his girlfriend, much less marry him. Turns out to be faute de mieux. She's getting older and doesn't see anyone else around. Time marches.
Then, when Jo is upstairs dealing with her pain, two strangers arrive. The lady (a mysterious and elegant Jane Alexander) introduces herself as Jo's mother. But, Jo's mother lives in New Jersey, and in due time we learn that this visitor is the lady from Dubuque. Albee's joke is that New Yorker editor Harold Ross once said the magazine was not published for the lady from Dubuque. Her traveling companion Oscar (Peter Francis James) being the hue of coffee and cream, Albee indulges in a series of race jokes.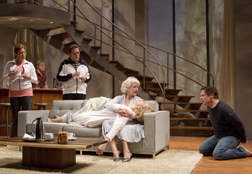 They are of course the angels of death. Time marches. Director David Esbjornson expertly mixes the strands of boring suburbia and overpowering death so that the realities that exist on different planes finally interconnect.
A typical Albee play of the mind and the spirit that you don't readily forget.
"The Lady from Dubuque." Written by Edward Albee; directed by David Esbjornson. Signature Theatre Company, 480 West 42nd Street, New York City. 212-244-7529. Opened March 5, 2012; closes April 15, 2012.