By Lucy Komisar
It's the American frontier in the late 1800s. The wood cabin set is probably too burnished to resemble the shabbier wood of the time, but you get the idea. What is surprising is that setting Shakespeare's play in a time and place when women were extremely independent and self-reliant, director Arin Arbus – a woman – has given it an egregiously sexist staging.
The setting might have prepared us for something different. Lucentio (Denis Butkus),   who will pursue the well-mannered Bianca, wears a bowler hat and vest. His servant Tranio (a charming John Keating) has a lilting Irish accent. A recent immigrant, of course. Katharina (Maggie Siff) and her sister Bianca (Kathryn Saffell) wear sweet long dresses of the time. Petruchio (Andy Grotelueschen) seems to have found his tailor in some punk costume store.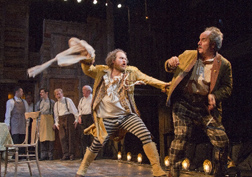 There is a lot that's appealing in the production. The acting company is first rate and the pace pulls you into the action. The minor players, Petruchio's servant Grumio (John Pankow) and the two creepy suitors, Saxon Palmer and John Christopher Jones, establish their characters well. Kathryn Saffel does a terrific operatic bit as Bianca, the good sister.
But this is still a supremely sexist play. What has to happen to delight audiences today – and what Shakespeare with his respect for women in other plays must have meant — is for there to be a clever intellectual joust between Kate and Petruchio. Kate should be played as a smart, independent woman and Petruchio as a rake who is taken by her style.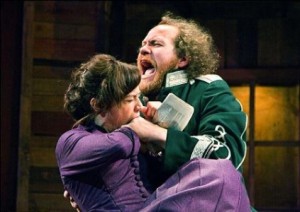 Instead, Kate is portrayed as not just a scold, as her own father marks her, but as severely neurotic, throwing stomping tantrums, nasty, even tying up her sister. Petruchio's approach is simply to seek to dominate her physically. She is pretty physical herself, at one point swinging from a door frame. (The production emphasizes farce and slapstick.)
Petruchio is supposed to like the challenge of "taming" a beautiful, assertive, intelligent woman. And maybe she (who may have had contempt for most men) is won over by this clever suitor. But if she doesn't seem supremely intelligent, and if they both lack charm, you lose the point. When the two finally kiss, it's not believable.
"The Taming of the Shrew." Written by William Shakespeare; directed by Arin Arbus. Theatre for a New Audience at the Duke, 229 West 42nd Street, New York City. 646-223-3010. Opened April 1, 2012; closes April 21, 2012.