By Lucy Komisar
Amy Herzog's play is a moody piece about connections between generations that sometimes has broken synapses but also lights up pathways that remind us of the value of family links. Of the sort you can depend on when everything else disintegrates.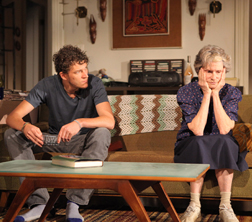 For Leo (Gabriel Ebert), 21, most of his emotional connections are broken. He is estranged from his parents and his girlfriend. He's just been on a cross country bike trip where, we learn mid-way through, his biking buddy has died in a freak road accident. So apparently, faute de mieux, with nowhere else to turn, he ends up late one night at the West Village apartment of his grandmother, Vera Joseph (Mary Louise Wilson), an 80-something left-winger (pro-Cuba and pro-peace), whose sharp intelligence only occasionally runs into the potholes of old age. Sometimes she can't find the words to express what she wants to say.
She has a comfortable but not elegant apartment. The couch end tables are small file cabinets. There's a book case.
Vera is very social, in the "we" not the "me" sense. Her mantra is "you help people; it's about the community."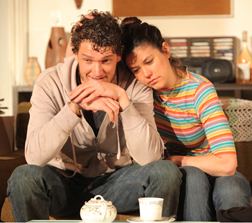 Leo is screwed up and self-centered. He dropped out of college. He doesn't get along with his mother. He has no cash. He cages $50 from Vera to climb a wall. What kind of person with no money takes/borrows cash to climb a wall? No wonder his college student girlfriend, Bec (Zo« Winter), has dumped him. Bec comments generously that "Men sometimes do things more out of stupidity."
When Leo and Vera sit on the couch to chat, smoking grass, he pulls a hood over his head as if to disappear.
Another prospective girlfriend is quite unlike Bec. Funny fast-talking Amanda (Greta Lee), with platform shoes and leggings paired with denim shorts, is Chinese. She appears pretty clothes-centered and dumb until she gets upset when she sees a communist book at Vera's house and says, "I'm not sure I can get it on in a communist apartment."
Not an awful lot happens here, and everything happens. The feelings on all sides mix hope, confusion and desperation, not to mention attempts at affection that don't ever seem to find their targets. Director Daniel Aukin has a talent for making you feel you are watching events in real time without dragging them out.
Mary Louise Wilson is sharp and sensitive, giving the self-centered kid some space, but not too much. Gabriel Ebert is excellent as the confused, egotistical youth of our times, and Zo« Winters and Greta Lee do fine as the young women who offer him more than he deserves. So, not brilliant, but warm, familiar and satisfying.
"4000 Miles." Mitzi Newhouse Theater at Lincoln Center, 150 West 65th Street, New York City. Written by Amy Herzog; directed by Daniel Aukin. 212-239-6200. Opened April 2, 2012, closes July 1, 2012.