By Lucy Komisar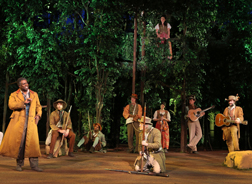 Curious how the sounds and sights of Elizabethan madrigals and forests of the turn of the 17th century work just fine with a country bluegrass touch. The rough and tumble of courtly wrestling is transplanted easily to a timbered stockade, and men chasing women in the woods exhibit quite the raw way to romance. Nor are family feuds unknown in either place.
As usual, the Public Theater, in a production directed by Daniel Sullivan, presents a first-rate take on the Bard. From the squeals emanating from the 20-somethings in the audience, a play written more than four centuries ago couldn't be more contemporary. The story is about varieties and vagaries of romance and the struggle to find one's heart's partner.
In Sullivan's conception, it is about 1840, and the Forest of Arden (set by John Lee Beatty) is now in the American South.   Playing compositions by actor Steve Martin, the musicians wander among the tall trees and sometimes perch in them.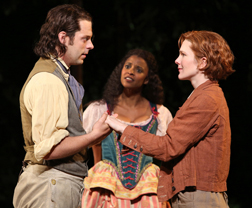 Sullivan's vision of Shakespeare's comedy is quite delightful. That, of course, owes a lot to Lily Rabe as Rosalind, the duke's daughter disguised as a young boy to more safely move through the woods to find her banished father.  She was ordered out of town by her banishing uncle and fled to the forest along with his daughter, her cousin Celia (Renee Elise Goldsberry). Nice to see Shakespeare supporting female solidarity.
Rabe as Rosalind is tough and passionate. She is also a bit nasal; this country girl has the sound and personality of a New Yorker.  David Furr is a fine lovelorn Orlando, who was smitten with her at a wrestling match he bravely engaged in before she left town. Orlando has been sent packing by his nasty brother, who unjustly commandeered his part of the family fortune.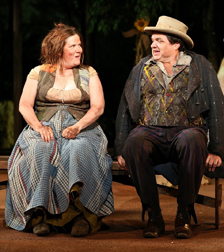 Oliver Platt adds a grace note as Touchstone, the usurping duke's court jester, making him a more subtle wit than one might expect. (He has joined Rosalind and Celia on their trek to the woods. ) His tryst with the goatherd Audrey (a deliciously comic Donna Lynne Champlin) is a highpoint, playing Shakespeare at his bawdy best.
Will Rogers is fine as Silvius, the shepherd with a hang-dog look who chases after the shepherdess Phoebe (an unyielding Susannah Flood).
So love and lust find their way. In any era.
"As You Like It." Written by William Shakespeare; directed by Daniel Sullivan. Shakespeare in the Park, Delacorte Theater in Central Park, entrance 81st Street & CPWest. Free tickets day of performance. Online ticket lottery and box office information via the website. Opened June 21, 2012; closes June 30, 2012.
Also on NY Theatre-Wire.