By Lucy Komisar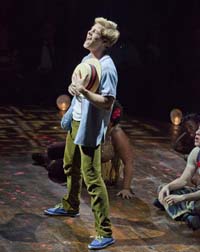 Maybe it's because I expect religious music to be, well, religious that I enjoyed the moralistic, be a good person "Godspell," loved the lively, jivey singing and dancing, and didn't seriously notice till the final crucifixion scene that the parables belong to the Christian God story.   Appealing Hunter Parrish, who plays Jesus with a cowlick, looks like one of the Beach Boys, and the motley crew he interacts with, representing ordinary folks, look like, well, ordinary folks, in all shapes, colors and sizes.
The Circle in the Square is the perfect venue for this musical, pulling the audience close and all around the stage. A few people sitting on floor cushions at the front were invited onto the boards.
There have been a few changes since the show premiered in 1971. The musical is based on the Gospel according to Matthew. But now characters carrying satchels labeled Socrates, Galileo (proclaiming against the Inquisition), Hegel, Sartre and such pull out cell phones. The feeling is out of the political sixties.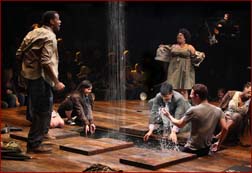 Water drips from the ceiling, slats open to show a pool of water, and there is a baptism. There's rap and hip hop and rock dancing, lots of jumping, even a terrific straw hat vaudeville soft shoe. (Choreography is by Christopher Gattelli.)
And some critical commentary. A priest is pursued by a guy in need but doesn't stop. Sorry, late for cocktails at the Vatican.
A man with a Yiddish accent is Abraham. Another character declares, I want to see your birth certificate. Occupy Wall Street gets a mention. And a youth declares that The good seed is the stimulus package.
There are some appropriate lines for Michelle Bachmann, Rick Santorum, and Mitt Romney. No, they don't represent Christian charity.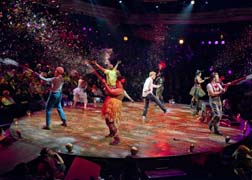 Some of the parables are pretty funny, or clever. You'll go out humming songs such as Day by Day. The music and lyrics are by Stephen Schwartz. The spirited direction is by Daniel Goldstein.
I liked joyous "Godspell" — Jesus as an ethical teacher — a lot more than Jesus as a bloody martyr damned by the Jews in the gory Tim Rice-Andrew Lloyd Weber "Jesus Christ, Superstar," which has been playing a few blocks away. Schwartz and Goldstein would not have staged that one, would they?
"Godspell." Music & lyrics by Stephen Schwartz, book by Jon-Michael Tebelak, directed by Daniel Goldstein. Circle in the Square, 235 West 50th Street, New York City. 212-239-6200 Opened November 7, 2011, closes July 1, 2012.